One of the most common questions asked by woman athlete who workout is 'How to recover after a workout session'. While there are many things we can do, they all are important and should be part of every workout routine.
Recovery is just as important as the workout itself and impacts your performance, muscle growth, and overall well-being. If you don't have a recovery routine in place, it might impact your gym performance or even your weight loss journey. In short, having a good recovery ritual will help you workout harder next time around and push yourself further.
In this blog, we will talk about 5 must-haves that every woman before training must follow. These habits will help you stay healthy and recover faster after your workout sessions.
What is the Purpose of a Pre-Training Routine for Woman Athlete?
A pre-training routine is a key part of any workout. It helps to warm up the body and get it ready for the intense workout ahead. During a warm-up, you should gradually increase your heart rate and become warmer and more comfortable. This will help to prevent injury and improve overall performance. After a thorough workout or race, you should hydrate by drinking water or any other substance that provides you with electrolytes and water. Eating healthy before exercise will also help to restore energy levels and enhance performance.
What are the 5 must-haves for every woman before training?
#1 Vitamins
As a woman athlete, it's important to take care of your body and give it the nutrients it needs to perform at its best. Vitamins play a crucial role in ensuring that your body functions properly and can handle the demands of training. Here are some reasons why it's important for women athletes to include vitamins in their diet before training:
Energy Production: Vitamins such as B-complex vitamins, specifically B1 (thiamine), B2 (riboflavin), B3 (niacin), B5 (pantothenic acid), and B6 (pyridoxine), are important for converting the food you eat into energy. When you exercise, your body requires more energy to perform, so it's important to have enough of these vitamins in your system to support energy production.
Muscle Function: Vitamins such as vitamin D and calcium are essential for muscle function. Vitamin D helps the body absorb calcium, which is necessary for muscle contraction. If you don't have enough of these vitamins in your system, you may experience muscle cramps, weakness, or fatigue during exercise.
Immune System: Vitamin C is important for maintaining a healthy immune system, which is especially important for athletes who are pushing their bodies to the limit. When you exercise, your body is under stress, and your immune system may be weakened temporarily. Having enough vitamin C in your system can help support your immune system and reduce the risk of getting sick.
Recovery: Vitamins such as vitamin E and vitamin A are important for recovery after exercise. Vitamin E is an antioxidant that helps protect the body from damage caused by free radicals, which can be produced during exercise. Vitamin A is important for repairing and building new tissue, which is necessary for muscle recovery and growth.
Hormone Regulation: Vitamins such as vitamin B6 and vitamin D are important for regulating hormones in the body. Hormones play a crucial role in athletic performance, especially for female athletes. For example, vitamin B6 is important for regulating estrogen levels, which can affect menstrual cycles and overall athletic performance.
Including vitamins in your diet before training is crucial for women athletes. They support energy production, muscle function, immune system, recovery, and hormone regulation. It's important to have a balanced and varied diet that includes plenty of fruits, vegetables, whole grains, and lean protein sources to ensure that you are getting all the vitamins and nutrients your body needs to perform at its best.
#2 Regular Check-Ups and Doctor Appointments
Women athletes, like all athletes, need to take care of their bodies to ensure optimal performance and prevent injury. This includes regular visits to a doctor, who can provide a comprehensive health evaluation and address any potential health concerns before they become serious problems.
Here are some reasons why women athletes should include doctor appointments before training:
Comprehensive health evaluation: A doctor can evaluate a woman athlete's overall health and identify any potential health risks that may impact her performance. This can include assessing her cardiovascular health, bone density, and muscular strength. Identifying and addressing any underlying health issues before they become serious can help to prevent injuries and promote better overall health.
Addressing menstrual irregularities: Menstrual irregularities can be common among women athletes, and can impact their performance and overall health. A doctor can help to identify any underlying issues and provide treatment options that can help to regulate a woman's menstrual cycle and improve overall health.
Nutritional counseling: Proper nutrition is critical for athletes, and women athletes may have unique nutritional needs. A doctor can provide guidance on proper nutrition, including recommendations for a balanced diet, supplements, and hydration strategies.
Injury prevention: A doctor can help to identify areas of the body that may be at higher risk for injury, such as joints and muscles that are frequently used during a specific sport. They can also provide recommendations for injury prevention exercises and stretching routines that can help to reduce the risk of injury.
Mental health: Mental health is just as important as physical health for athletes, and women athletes may face unique challenges related to their gender. A doctor can provide resources and support for mental health concerns, including stress, anxiety, and depression.
#3 Proper Nutrition
It's important to note that the timing of when you eat is just as important as what you eat. Ideally, you should eat a snack containing both carbohydrates and protein about 30 minutes to an hour before your workout. This will provide your body with the fuel it needs to power through your training session. After your workout, you should aim to eat a snack containing carbohydrates and protein within 30 minutes to an hour. This will help your muscles recover and replenish the glycogen stores that were depleted during your workout.
Pre-Workout Snack Recommendations:
Banana with almond butter
Greek yogurt with berries
Rice cake with hummus and sliced cucumber
Apple slices with peanut butter
Whole-grain toast with avocado and egg
Energy balls made with dates, nuts, and seeds
Smoothie with spinach, berries, and protein powder
Post-Workout Snack Recommendations:
Chocolate milk or a protein shake
Turkey slices with whole-grain crackers
Cottage cheese with pineapple
Trail mix with nuts, seeds, and dried fruit
Hummus with veggies and pita chips
Greek yogurt with granola and honey
Tuna salad with whole-grain crackers
It's also important to listen to your body and find what works best for you. Everyone's nutritional needs are different, so it's important to experiment with different snacks and meal timing to find what makes you feel your best.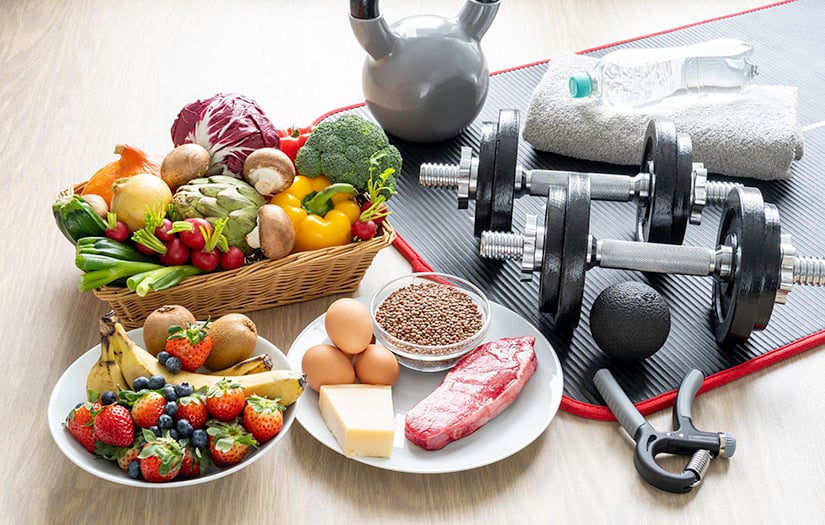 #4 Skincare Routines
Women athletes face unique challenges when it comes to skincare. Whether it's the sweat and grime of training or the harsh environmental conditions of competition, athletes put their skin through a lot. This is why it's essential for women athletes to include skincare routines in their training regimen. Here are a few reasons why:
Protects the skin from damage during training, women athletes are exposed to the sun, wind, and other environmental factors that can damage the skin. Exposure to UV rays can cause premature aging and skin cancer, while exposure to wind and cold can cause dryness, redness, and irritation. By including a skincare routine before training, athletes can protect their skin from damage and maintain a healthy, youthful glow.
Helps prevent breakouts: Sweat and dirt can clog pores, leading to breakouts and acne. By cleansing the skin before training, athletes can prevent the buildup of dirt and oil on their skin, reducing the risk of breakouts. Additionally, exfoliating the skin can help remove dead skin cells, unclog pores, and improve the overall texture and appearance of the skin.
Improves skin hydration: Dehydration is a common problem among athletes, and it can also affect the skin. When the skin is dehydrated, it can become dry, dull, and prone to wrinkles. By including a skincare routine that includes moisturizer, athletes can improve skin hydration, reduce the appearance of fine lines and wrinkles, and maintain a healthy, youthful complexion.
Boosts confidence: Feeling good about yourself is essential for athletic performance. By including a skincare routine before training, athletes can boost their confidence and feel more comfortable in their own skin. This can lead to better performance and a more positive attitude both on and off the field.
#Correct Gym Wear
As a woman athlete, it's important to wear the right gym clothes before training to ensure maximum comfort, flexibility, and support. The following are some tips on what to wear before heading to the gym:
Sports Bra: A sports bra is a must-have for any female athlete. It provides the necessary support to prevent discomfort and injury during high-impact workouts. Make sure to choose a sports bra that fits well and offers the right level of support for your activity level.
Tank top/T-shirt: Choose a breathable tank top or t-shirt made of moisture-wicking fabric to help keep you dry and comfortable during your workout. Avoid cotton materials, which tend to trap sweat and can leave you feeling wet and uncomfortable.
Leggings/shorts: Leggings or shorts made of flexible, stretchy material are ideal for workouts that require a lot of movement, such as weightlifting, running, or yoga. Make sure they fit well and are not too loose or too tight.
Athletic shoes: Choose athletic shoes that are designed for your specific activity, whether it's running, cross-training, or weightlifting. Make sure they fit well and provide the necessary support and cushioning for your feet.
Socks: Choose socks that are made of moisture-wicking material to help keep your feet dry and comfortable. Avoid cotton socks, which can trap sweat and cause blisters.
Hair ties/headbands: Keep your hair out of your face by using hair ties or headbands. Choose ones that are comfortable and stay in place during your workout.
Wearing the right gym clothes before training is essential for female athletes to ensure comfort, flexibility, and support. By choosing sports bras, breathable tops, leggings or shorts, athletic shoes, moisture-wicking socks, and hair ties/headbands, you'll be ready to hit the gym and perform at your best.
Let's Sum Up
Every workout routine is different and brings different benefits. However, if you want to maximize the results and get rid of post-workout soreness, we suggest you follow a pre-training routine. A pre-training routine helps you stay focused and mentally prepared for your workout. It also helps you stretch and warm up before training. It prepares your body for the workout ahead and prevents injuries during training.
When it comes to recovery, two things work wonders – water and rest. Drinking enough water helps keep your body hydrated, which reduces the chances of suffering from cramps or dehydration during workouts. Drink at least eight glasses of water a day to keep yourself hydrated during workouts. Also, make sure you get sufficient rest so that your body can recover faster after a workout session.