Are you tired of your chest workouts not delivering the desired results? Do you feel like there's something missing from your routine, but you can't quite put your finger on it? It might be time to focus on working out your inner chest muscles.
The inner chest is a crucial area that, when targeted correctly, can help carve out the perfect pecs. In this blog post, we'll take a deep dive into the anatomy and function of inner chest muscles and discuss why it's essential to establish a mind-muscle connection for better results. We'll also cover some key exercises, stretches, and techniques for beginners, experienced trainers, and those looking to take their workouts to the next level.
So whether you're just starting or aiming to enhance your current routine, read on to unlock the secret to achieving an impressive chest.
Understanding the Importance of Working Out Your Inner Chest
The inner chest is the part of your chest that is located in the center, between your two pecs. It is often neglected in chest workouts, but it is important to train this area for a few reasons.
Improved symmetry and definition. When you only train the outer chest, your pecs can start to look uneven and underdeveloped. Training the inner chest will help to fill out this area and give your chest a more balanced and defined look.
Increased strength. The inner chest muscles are responsible for adduction, which is the movement of bringing your arms towards the midline of your body. This is an important movement for many exercises, such as the bench press and dumbbell flyes. By training your inner chest, you will be able to lift more weight and perform these exercises more effectively.
Reduced risk of injury. The inner chest muscles help to stabilize your shoulders and upper back. When these muscles are weak, it can increase your risk of injury during exercises such as overhead pressing and pull-ups. By training your inner chest, you can help to improve your shoulder and back health and reduce your risk of injury.
How to Establish a Mind-Muscle Connection for Better Results?
To maximize your inner chest workout and achieve better results, it's essential to establish a strong mind-muscle connection. By focusing on the target muscle during exercises, you improve neural activation and muscle recruitment. Visualizing the inner chest muscles working during each repetition enhances this connection even further. Concentrate on feeling the inner chest muscles contract and squeeze throughout the entire range of motion. Practicing proper form and technique allows for a deeper mind-muscle connection during inner chest exercises. Developing this connection leads to better muscle engagement and growth, ensuring the best inner chest workout possible.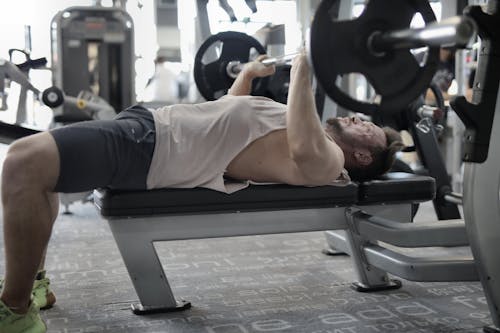 Key Inner Chest Exercises to Enhance Your Workout Regime
·        Hybrid Flye-Press Combo – A Comprehensive Guide
The hybrid flye-press combo is a powerful exercise that combines the benefits of flyes and presses to target the inner chest muscles effectively. To perform this exercise, start with a dumbbell flye and then smoothly transition into a dumbbell press while keeping the dumbbells close together. This movement creates constant tension on the inner chest muscles throughout, maximizing muscle activation and growth. Remember to focus on maintaining control and feeling the contraction in your inner chest with each repetition. Adjust the weight and difficulty level according to your fitness level and goals.
·        Perfecting the Hammer Squeeze Press
The hammer squeeze press is a highly effective exercise for targeting the inner chest. During this exercise, you hold a pair of dumbbells with a neutral grip, palms facing each other. Throughout the entire range of motion, make sure to squeeze the dumbbells together, focusing on contracting the inner chest muscles as you push them away from your body. To maximize the effectiveness of this exercise, it's important to keep your core engaged and maintain proper form. By incorporating the hammer squeeze press into your routine, you can achieve optimal development in the inner chest area.
·        Mastering the Diamond Pushup for Inner Chest Gains
To target the inner chest muscles, you can master the diamond pushup, also known as the close-grip pushup. This exercise places emphasis on the inner chest by positioning your hands close together in a diamond shape, with thumbs and index fingers touching. As you lower your body by bending your elbows, remember to keep them close to your sides. Focus on squeezing the inner chest muscles as you push back up to the starting position. To gradually increase the difficulty, you can elevate your feet or wear a weighted vest.
·        Essential Stretches for Pectoral Muscles
To enhance your inner chest workout, incorporate these essential stretches for the pectoral muscles. Start with the doorway stretch, standing in a doorway and leaning forward to stretch the pecs. Then, try the chest stretch with a resistance band, pulling it outward to stretch the chest muscles. The wall stretch is also effective, rotating your body away from a wall while keeping your forearm flat against it. Additionally, the shoulder cross-body stretch and pec minor stretch target the shoulder and chest muscles. Incorporate these stretches into your routine for better results.
Beginner's Guide to Inner-Chest Workouts
Here is a beginner's guide to inner-chest workouts:
Warm up. Before you start any workout, it is important to warm up your muscles to prevent injury. A good warm-up for your chest muscles includes some light cardio, such as jogging or jumping jacks, followed by some dynamic stretches, such as arm circles and chest stretches.
Choose the right exercises. There are a number of exercises that can help you target your inner chest. Some of the best exercises for beginners include:
Dumbbell chest presses: Lie on a bench with your feet flat on the floor and your knees bent. Hold a dumbbell in each hand with your arms extended straight up, palms facing each other. Slowly lower the dumbbells down to your sides, keeping your elbows slightly bent. Pause, then press the dumbbells back up to the starting position.
Push-ups: Start in a plank position with your hands shoulder-width apart and your body in a straight line from your head to your heels. Lower your body down until your chest touches the ground, then push back up to the starting position.
Cable flyes: Stand with your feet shoulder-width apart and attach a cable attachment to each hand. Hold the attachments with your arms extended straight out to your sides, palms facing down. Slowly bring your arms together in front of your chest, keeping your elbows slightly bent. Pause, then return to the starting position.
Do 3 sets of 8-12 repetitions of each exercise. When you first start out, you may need to start with fewer repetitions and sets. As you get stronger, you can gradually increase the number of repetitions and sets you do.
Take a break between sets. After each set, take a 30-second break to catch your breath and allow your muscles to recover.
Cool down. After you finish your workout, it is important to cool down your muscles to prevent soreness. A good cool-down for your chest muscles includes some static stretches, such as holding a chest stretch for 30 seconds.
Here is a sample inner-chest workout for beginners:
Warm up for 5 minutes with light cardio and dynamic stretches.
Do 3 sets of 8-12 repetitions of dumbbell chest presses.
Do 3 sets of 8-12 repetitions of push-ups.
Do 3 sets of 10-15 repetitions of cable flyes.
Cool down for 5 minutes with static stretches.
You can do this workout 2-3 times per week. As you get stronger, you can gradually increase the weight you use and the number of repetitions and sets you do.
It is important to note that everyone's body is different, so what works for one person may not work for another. If you have any pain or discomfort during your workout, stop immediately and consult with a doctor or certified personal trainer.
How to Further Improve Your Inner Chest Workouts?
Enhance your inner chest workout routine with these expert tips and techniques. Maximize muscle activation and growth in your inner chest by incorporating these strategies. Take your exercises to the next level and optimize your results for a more defined and sculpted chest.
Can Inner Chest Workouts Help Carve Your Pecs?
Developing your inner chest muscles through targeted workouts can help carve your pecs, resulting in a more defined and sculpted appearance. These workouts, when combined with a well-rounded training program, can enhance overall upper body strength and performance while promoting balanced muscle development.
Let's Sum Up
To achieve well-rounded chest development, it is crucial to prioritize the inner chest muscles. These muscles not only contribute to a defined and sculpted chest but also assist in improving overall strength and stability. By incorporating specific exercises like the hybrid flye-press combo, hammer squeeze press, and diamond push-up into your workout routine, you can effectively target the inner chest muscles for optimal growth and definition.
In addition to these exercises, it is important to establish a mind-muscle connection and focus on proper form and technique. This will ensure that you are effectively engaging the inner chest muscles during each repetition. By gradually increasing the intensity and incorporating advanced techniques such as feet-elevated diamond push-ups and barbell bench press variations, you can continue to challenge your muscles and promote further development.
Remember, consistency and patience are key when it comes to achieving desired chest gains. Give your body time to adapt and recover, and don't be discouraged by slow progress. With dedication and the right approach, you can carve out the chest you've always desired. Keep pushing yourself, stay committed to your workouts, and enjoy the journey towards a stronger and more muscular physique.
You May Also Like