Are you looking to shed those extra pounds, but don't have the time to spend hours in the gym? High-Intensity Interval Training or HIIT might be just what you're looking for. It is a fitness trend designed to help you burn calories and build lean muscle with short, intense workouts. HIIT has been shown to be particularly effective for fat loss.
In this blog post, we have compiled a comprehensive list of the best HIIT exercises for fat loss. From jumping lunges to arm curl jackknifes, we have it all covered. We've also included a brief introduction to HIIT and its benefits. So, let's get started on our journey to a fitter, healthier you with these amazing HIIT exercises.
What Is HIIT?
HIIT or High-Intensity Interval Training combines short periods of intense activity with periods of rest, challenging the cardiovascular and respiratory systems. HIIT exercises include a wide range, incorporating bodyweight movements, TRX training, running, and weights. Adolescent children aged 7 and above can benefit from HIIT exercises that promote muscle and bone strengthening. When incorporating weights in HIIT, it's essential to follow the four basic rules and start with lighter weights.
Despite the previous notion, HIIT is not solely meant for males, but females as well; they are quick learners when it comes to performing these exercises. It's important to keep in mind that HIIT workouts are high intensity and can be dangerous for individuals with underlying health conditions. Therefore, it's necessary to be careful and approach with caution. Incorporate HIIT exercises into your workout routine for optimal fat loss results.
Benefits of HIIT for Fat Loss
High-intensity interval training (HIIT) has become a popular workout style for individuals looking to burn fat and lose weight. Here are some of the benefits of HIIT for fat loss:
Increased calorie burn: HIIT workouts involve short bursts of high-intensity exercise, which can burn more calories than traditional steady-state cardio exercises. HIIT can boost your metabolism and continue to burn calories even after your workout has ended.
Preserves muscle mass: During a calorie deficit, your body may burn both fat and muscle for energy. However, HIIT workouts help preserve muscle mass while burning fat, which is important for maintaining your metabolism and overall body composition.
Time-efficient: HIIT workouts typically last between 15-30 minutes and can be done anywhere with little or no equipment. This makes it an excellent option for those with busy schedules.
Increases insulin sensitivity: HIIT has been shown to improve insulin sensitivity, which is important for regulating blood sugar levels and reducing the risk of type 2 diabetes.
Versatile: HIIT workouts can be customized to your fitness level and can incorporate a variety of exercises, making it an adaptable and fun way to burn fat and improve overall fitness.
Research also suggests that HIIT is more effective in reducing fasting blood glucose, fat mass, and insulin resistance in people with type 2 diabetes than other types of exercise. Both HIIT and moderate-intensity continuous training (MICT) produce functional improvements, but studies suggest that HIIT is more time-efficient in meeting fitness goals.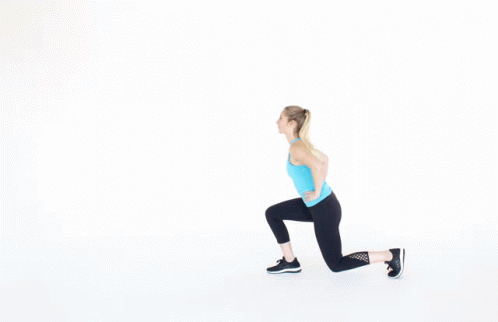 #1 Jumping Lunges
Jumping Lunges are a great addition to any HIIT workout routine, and they target a variety of muscle groups including:
Calves
Quads
Hamstrings
Adductors
Hip flexors
Glutes
Lower abs
For the best results, incorporating resistance training into your HIIT exercises is the most effective. Pairing Jumping Lunges with full-body exercises such as Jumping Jacks will increase the intensity of your workouts and help to burn fat while also enhancing your cardiovascular fitness.
HIIT workouts are designed to be effective at burning fat and are a great addition to any fitness routine. With alternating periods of high-intensity exercise and rest periods, you will maximize the benefits of your HIIT workout routine.
#High-Intensity Jumping Jacks
When it comes to the best HIIT exercises for fat loss, high-intensity jumping jacks top the list. A perfect cardio exercise, jumping jacks work to engage:
The glutes
Quads
Hip flexors
Shoulders
Abdominals
The starting position for jumping jacks requires standing straight with legs slightly bent and arms to the side. Then, jump up explosively, swinging the arms overhead until they almost touch, and bringing the legs together while coming down.
Jumping jacks are not only a great way to increase athleticism, but they can also benefit other exercises by improving explosive power. Incorporate them into your workout today to kick start your fat loss journey!
#Rope Jumping
One of the best HIIT exercises for fat loss is rope jumping, which is a form of cardiovascular exercise that burns a high number of calories. Rope jumping involves skipping with a jump rope, focusing on:
Maintaining good form
Keeping a steady pace
This low-impact cardio exercise can help tone muscles
Increase strength
Also boosting stamina
Endurance and coordination
Incorporating rope jumping into your HIIT workouts can effectively promote fat loss by increasing heart rate and creating a calorie deficit. Be sure to start slow, work on improving form, and gradually increase intensity over time.

#Russian Twist
The Russian Twist is one of the popular high-intensity interval training (HIIT) exercises that can help you:
Lose fat
Strengthen your core and hips
Targets various abdominal and leg muscles
Improves posture
Strengthening anti-rotational strength
To do a proper Russian Twist, sit down with your knees up, feet flat, and shoulders back. Twist your torso from side to side while holding a medicine ball or weight plate. You can perform this exercise in sets of 40 reps with a 10-second rest in between.
By doing HIIT exercises like the Russian Twist consistently, you can improve your cardiovascular health, boost metabolism, and burn calories. Along with a healthy diet plan, HIIT exercises can help you achieve your weight loss goals faster.
#Bicycle Crunches
Bicycle crunches are one of the most effective HIIT exercises for targeting:
Lower abs
Obliques
Glutes
Hamstrings
Quads
To do them: lie down on your back, lift your head off the ground, place your thumbs behind your ears, and lift your legs off the floor to start. Then, extend your right leg and twist your upper body to touch your right elbow to your left knee. Inhale and return to the start position.
Bicycle crunches can be done at a fast pace for fat loss. However, it's important to maintain proper form to avoid injury. Burpees are also an excellent full-body exercise that requires no equipment and can be done for cardio.
#Arm Curl Jack Knife
The arm curl jack knife is one of the most effective HIIT exercises for targeting multiple muscle groups, including:
The abs
Glutes
Biceps
Quads
Hamstrings
To perform this exercise, sit on a mat while holding a dumbbell with both hands, lift your feet off the floor, and follow by extending your legs and arms while keeping your core tight. Then bring them back to the starting position while inhaling, and exhale while extending your arms and legs.
You can increase the intensity of this exercise by performing it at a faster pace. Incorporate the arm curl jack knife into your HIIT routine for an efficient full-body workout that will help you achieve your weight loss goals.
You May Also Ask For
What type of HIIT is most effective?
Research suggests that short to medium-term HIIT may be more effective than MICT in reducing fasting blood glucose, hemoglobin A1c, fat mass, and insulin resistance in people with type 2 diabetes. Additionally, HIIT burns significantly more body fat than steady-state cardio thanks to EPOC.
HIIT offers numerous benefits, including improved cardiovascular fitness, muscle mass, fat burning, weight loss, agility, flexibility, balance, coordination, mood, stress reduction, attention, and sleep quality. It also achieves greater aerobic capacity than MICT and can help improve physical functioning, exercise tolerance, and quality of life in individuals with chronic diseases.
What is the number 1 fat burning exercise?
There is no one-size-fits-all answer to the number one fat burning exercise, as different exercises can have varying effects depending on your fitness level and goals. However, HIIT cardio is often considered one of the most effective ways to burn fat and reshape your body. These workouts are typically shorter in duration, involving intense periods of exercise without rest, and can burn more than 450 calories.
For a challenging no-equipment HIIT workout, the 30 Minute Intense HIIT Cardio Workout is a great option. For those looking for a longer duration workout, LISS cardio is an option. Another challenging workout that requires no equipment and targets endurance, calorie burn and muscle toning is the 40 Minute Fat Burning HIIT Cardio Workout.
What is the perfect HIIT interval?
The perfect interval for a HIIT workout can vary based on the individual's fitness level and goals. Generally, HIIT workouts involve high-intensity activity followed by short rest periods to maintain an elevated heart rate and maximize fat loss in a short amount of time.
Emi Wong's 10-minute, equipment-free workouts are a great example of a quick and effective HIIT routine. Additionally, methods like Tabata, which last only 4 minutes, can provide significant benefits for cardiovascular health, weight loss, and overall fitness when done properly. Ultimately, the perfect interval for a HIIT workout will depend on your fitness level and goals.
Can you burn 500 calories with HIIT?
Yes, it is definitely possible to burn 500 calories with HIIT (High-Intensity Interval Training). HIIT is known to burn more calories in less time than steady-state cardio, and it can also help preserve muscle mass.
Additionally, HIIT leads to a higher post-workout calorie consumption due to the expended energy during and after the workout. Even a 20-minute HIIT workout can burn about 230 calories, which is similar to 30-60 minutes of walking.
While HIIT does not have specific fat-burning benefits, it combines aerobic exercise with resistance training, helping to promote muscle growth. Over the long-term, HIIT and steady-state cardio are equally effective for fat loss.
Can HIIT cause weight gain?
HIIT has been shown to be an effective way to burn calories and lose weight, as it can help to increase metabolism and reduce body fat.
However, it is possible for HIIT to cause weight gain if you are not careful about your diet and recovery. HIIT can be very demanding on the body, and if you do not properly fuel and recover from your workouts, it can lead to muscle loss and a decrease in metabolism, which can ultimately lead to weight gain.
To prevent weight gain while doing HIIT, it is important to focus on a balanced diet that provides your body with the nutrients it needs to recover and build muscle.
Let's Sum Up
Incorporating HIIT into your workout regime can greatly increase your fat loss journey. It's the perfect way to optimize your body's fat-burning abilities, and these exercises will challenge you to step up your game. They're quick, effective and efficient in melting away that stubborn fat. These exercises are just the tip of the iceberg when it comes to implementing HIIT workouts into your fitness routine.