Are you confused of what to eat after a workout to help you gain muscle or searching for the best foods for muscle gain? Then you reached the right location. We are now going to discuss about the best foods that you can add in your diet for building your muscle mass and healthy growth of your total body.
According to many dieticians having the right post-workout nutrition is an essential point to promote quick recovery, reducing muscle soreness, and helping to build muscle. Moreover these muscle building foods are high in protein so even if you are not doing workout and currently in your growing teenage you must include these foods in your meal for better physical growth and strength.
A person has to eat carbs to replace glycogen and prevent weariness, even if protein is an essential macronutrient. For most active people looking to gain and maintain muscle mass, the International Society of Sports Nutrition (ISSN)Trusted Source recommends ingesting 1.4-2.0 grams (g) of protein per kilograms (kg) of body weight each day.
Hence it's very important to ideally choose the muscle building foods and include hem in or diet. Now let's get started with the detailed information of benefits of Muscle Building Foods.
#1 Greek Yogurt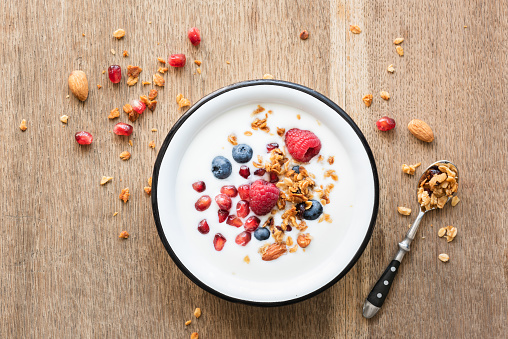 Greek Yogurt contains 12-20 grams protein in one serving.
Dairy products provide high-quality protein as well as a combination of whey protein, which digests quickly, and casein protein, which takes longer to digest. According to several studies, those who combine dairy proteins with fast- and slow-digesting amino acids gain more lean mass. Dairy, however, is not all made equal. For example, Greek yoghurt frequently has twice as much protein as normal yoghurt. Greek yoghurt is a healthy snack any time, but owing to its combination of quickly and slowly digesting proteins, having it after exercise or before bed may be advantageous.
#2 Eggs
Eggs are one of the best foods for muscle gain A poached or boiled egg contains 7 grams of protein.
If we talk about muscle building and what to eat to gain muscle then eggs surely has a top place all over the world as a natural high protein pre workout supplement. High-quality protein, good fats, and other vital elements like choline and B vitamins are all present in eggs. Amino acids make up proteins. Leucine, a crucial amino acid for muscle growth, is present in considerable quantities in eggs. Additionally essential for many bodily functions, including energy generation, are the B vitamins.
#3 Chicken or Chicken Breast
A 150 grams medium size Chicken Breast contains 36.7 grams of protein.
When you are dilemma what to eat to gain muscle then without giving any second though choose chicken for your meal. Chicken breast are one of the high protein foods for muscle building. Niacin and B6 are abundant in chicken breasts, making them particularly essential if you are an active person. These vitamins support your body's ability to function throughout the physical activity required for maximum muscular growth. One can simply add chicken without the skin, which is a low-fat protein source, to many dishes and recipes.
#4 Soybeans
One bowl or 500 grams of soybean contains 16 grams of protein.
In particular, soybeans are an excellent source of phosphorus, iron, and vitamin K. Your blood and muscles utilize iron to store and carry oxygen; therefore a lack can affect these processes. Due to blood loss during their cycle, women who menstruate may even be particularly at risk of iron deficiency.
#5 Chickpeas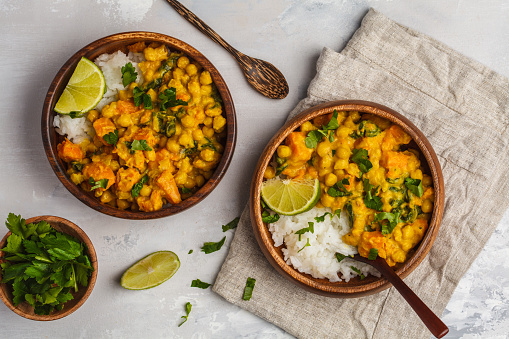 One cup or canned Chickpeas include 15 grams of protein.
Garbanzo beans, often known as chickpeas are one of the muscle building foods, are a good source of both protein and carbs. A person has a several options for consuming chickpeas: dry and soaked, canned, or in a prepared dish like dahl. Chickpeas are an excellent source of both carbohydrates and protein. The protein in chickpeas is regarded as being of best quality than that in animal sources, as is the case with many plants. It may still be a component of a healthy diet for muscle growth, though.
#6 Peanuts
Protein, fat, and carbohydrates are all present in peanuts. The 100 grams of peanuts contains 7 grams of protein, 6 grams of carbohydrates, and a sizable quantity of unsaturated fat. In comparison to many other plant products, they also have greater levels of the amino acid leucine. A serving of peanuts weighing 1 ounce (28 grams) has around 166 calories.
Peanuts are high protein foods for muscle building and eating peanuts could be a fantastic approach to acquire some extra calories and nutrients if you're struggling to get enough calories to support your muscle gain.
#7 Tofu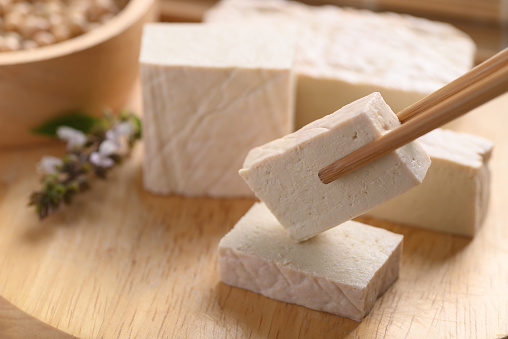 Tofu, which is made from soy milk, is frequently used in place of meat.
In 250 grams of raw Tofu contains 10 grams of protein, 6 grams of fat, and 2 grams of carbs. Additionally, tofu is a wonderful source of calcium (345 milligrams (mg) of calcium per 100g.), which is necessary for strong bones and healthy muscles. One of the best plant proteins is soy protein, which is included in foods like tofu and soybeans. Foods containing soy protein are excellent choices for vegans and vegetarians due to all of these factors.
#8 Walnuts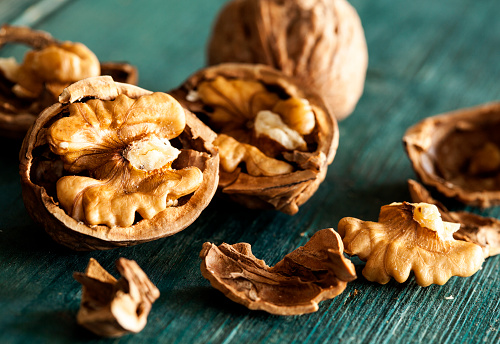 Walnut is recognized as muscle building foods. A cup of chopped shelled walnut halves includes 15.2 g of protein and 9 g of omega-3 fatty acids, both of which may aid in muscle development. Walnuts are also a good source of vitamin E, which may protect the body from physical stress during exercise, according to study.
#9 Salmon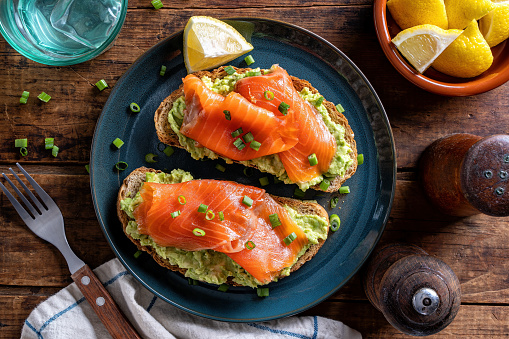 Salmon is an excellent high protein food for muscle building and source of calcium for muscle growth and general wellness. Each 3-ounce (85-gram) portion of salmon includes around 17 grams of protein, 1.5 grams of omega-3 fatty acids, and a variety of B vitamins. Omega-3 fatty acids are beneficial to muscle health and can even boost muscle building during training regimens.
#10 Tuna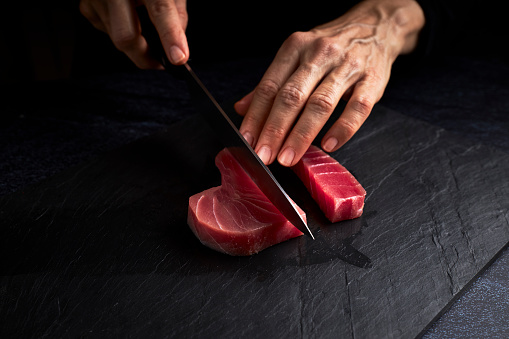 Tuna includes as significant high protein foods for muscle building with quantities of vitamin A and many B vitamins, including B12, niacin, and B6, in addition to 20 grams of protein every 3-ounce (85-gram) dose. These nutrients are necessary for good health, vitality, and athletic performance. Furthermore, tuna has a high concentration of omega-3 fatty acids, which may benefit muscular health.
This may be especially essential for the elderly. Omega-3 fatty acids have been proven in studies to stop the muscle loss and strength that happens with age.
#11 Shrimp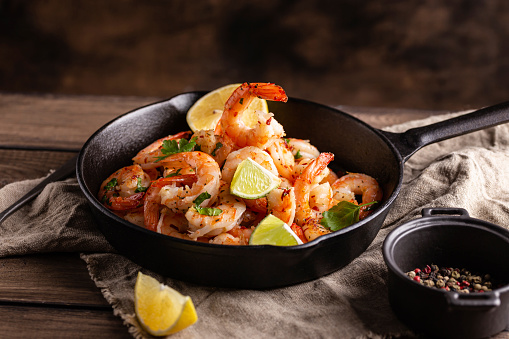 Shrimp are almost entirely composed of protein. Each 3-ounce (85-gram) meal includes 19 g of protein, 1.44 g of fat, and 1 g of carbohydrates. While healthy fats and carbohydrates are crucial in your entire diet, adding shrimp is a simple method to acquire muscle-building protein without adding too many calories. Shrimp, like many other animal proteins, includes a high concentration of the amino acid leucine, which is required for optimum muscular building.
#12 Quinoa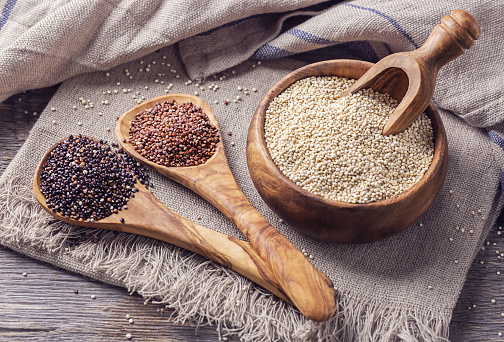 While protein-rich diets are vital for creating lean muscle, it's also critical to have the energy to begin moving. Carbohydrate-rich foods can assist offer this energy. Cooked quinoa has around 40 grams of carbohydrates per cup (185 grams), as well as 8 grams of protein, 5 grams of fibre, and significant levels of magnesium and phosphorus. Magnesium is essential for the proper functioning of your muscles and nerves, both of which are required every time you move.
#13 Milk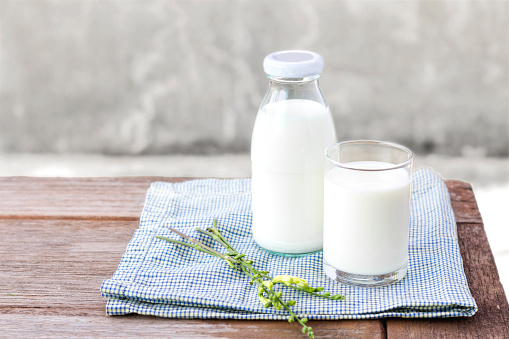 Skimmed or 1% fat milk has 8 g of protein per 8 oz, but high protein milk has 13 g of protein per 8 oz. Milk may be a good alternative to improve protein and hydration after exercise as long as individuals tolerate it. Milk also includes calcium, which is necessary for strong bones.
Milk contains a combination of protein, carbs, and lipids. Milk, like other dairy products, includes proteins that digest quickly and slowly. This is supposed to help in muscular development. In fact, multiple studies have shown that drinking milk in conjunction with weight exercise can help people gain muscle growth.
#14 Almonds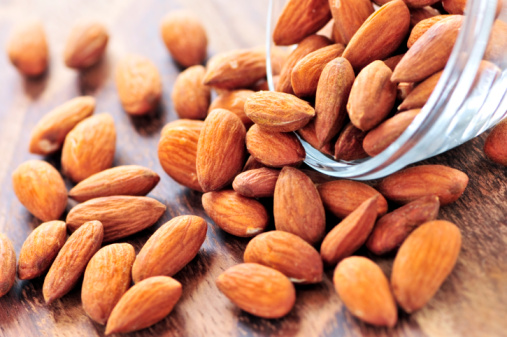 One ounce (28 grams) of almonds contains 6 grams of protein as well as significant levels of vitamin E, magnesium, and phosphorus. Phosphorus, among other things, helps your body utilize carbs and lipids for energy both at rest and during exercise.
Almonds, like peanuts, should be taken in moderation due to their high calorie content. A half-cup of blanched almonds has about 400 calories.
#15 Cottage Cheese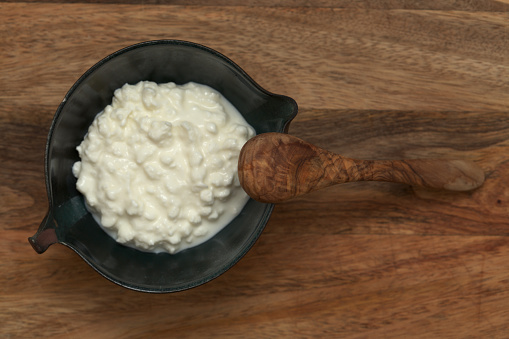 Low-fat cottage cheese has 28 grams of protein in one cup (226 grams), including a significant amount of leucine, an essential amino acid for building muscle. Cottage cheese is one of the best foods for muscle gain and obtained in a variety of fat levels, much like other dairy products. There are more calories in variants with higher fat, such creamed cottage cheese. The finest cottage cheese to choose simply comes down to how many extra calories you want to consume. Whichever variety you select, it's a fantastic snack for growing muscle.
Muscle building foods are great for all ages especially for growing teenage kids and adults because they required most of the protein. To grow muscle while exercising, people require a range of protein sources and amino acids. They can select from a wide variety of popular animal and plant-based meals and pair them with enough carbs. Oily fish and other protein-rich diets may offer extra advantages for fitness and health. For energy, performance, and recuperation, people should make sure they have the required vitamins and minerals in their diet. Additionally, kids need to make sure they are properly hydrated. These are the best foods for muscle gain so what are you waiting for? Add them in your diet.
Answers You Want To Know
1. Which proteins should I eat when I'm looking to build muscle?
When it comes to building muscle, the most important aspect is to eat high-quality protein. This means that you should choose protein sources that include animal products, plant-based proteins, or soy yogurts. All three of these protein sources contain all of the essential amino acids your body needs to build muscle tissue. In addition, they are also rich in vitamins and minerals that are essential for muscle growth. So, make sure to include these types of proteins in your diet on a regular basis to gain the best results!
2. What types of food supplements can help me achieve my goals?
Food supplements can be a great way to help you achieve your fitness goals. Whey protein is essential amino acid that helps in muscle growth and repairing muscles. It also helps to promote satiety (fullness) and reduce muscle damage after workouts. Creatine Monohydrate is a synthetic version of creatine found in nature. Some studies have shown that creatine monohydrate can increase the amount of muscle mass, while others have shown no real benefits. However, it is still considered to be an effective muscle-building supplement.
3. How do I make sure that I'm getting enough protein while on a weight loss diet?
To make sure you're getting enough protein while on a weight loss diet, consider adding it to your meals every day. When protein is consumed regularly, it helps to boost the levels of appetite-reducing hormones like cholecystokinin, peptide YY, and GLP-1 in your body. These hormones work together to make you feel fuller after eating and reduce your overall food intake. By increasing the amount of protein in your diet, you'll find your cravings and the urge for snacking going down. So go ahead and add some high-quality proteins to your meals today.
4. Is it okay to eat animal proteins while on a weight loss diet?
While protein is an essential nutrient for muscle growth and health, it's important to be aware of the calories in animal-based proteins. Consuming animal-based proteins in excess can result in weight gain, as these proteins contain high amounts of calories and saturated fat. According to The Academy of Nutrition and Dietetics, the recommended daily intake of protein for people trying to lose weight is around 36 grams per day. This means that, if you're consuming animal-based protein supplements or foods, you may be exceeding your daily calorie intake and putting your health at risk. Fortunately, there are many plant-based sources of protein that are healthy and satisfying. These include: pulses (beet, lentil), nuts and seeds, quinoa, tempeh and vegan meat substitutes like Gardein products. In addition to providing amino acids that are important for muscle growth and health, plant-based proteins typically have a lower calorie content and fewer grams of saturated fat.
5. Should I eat before or after my workouts to maximise muscle gains?
Studies have shown that pre-workout meals help in speeding up the process of muscle building and improved energy levels. This can help to reduce fatigue during your workouts and promote better muscle growth. Post-workout meals provide the body with essential nutrients needed for muscle repair and growth. These include proteins, carbs, and healthy fats. It is best to have a mix of both before and after your workouts to achieve the best possible results.