Bodybuilding is not just about lifting weights and pumping iron, it's much more than that. It's a science that requires discipline, dedication, and most importantly, the right bodybuilding training program. A structured bodybuilding program is essential for achieving your goals in a timely and efficient manner.
In this blog, we will dive deep into the world of bodybuilding training programs and cover everything from understanding the structure of programs to exploring diverse options like full-body hypertrophy, 3-day splits, 4-day splits, 5-day splits, 6-day splits, bodybuilding ballet and more.
We will also discuss how to tailor your program once completed by evaluating progress and setting new goals.
Additionally, we'll explore the role of strength training in bodybuilding as well as the importance of diet for maximum results. With our ultimate guide to bodybuilding training programs, you'll be on your way to becoming a pro in no time!
The Importance of a Structured Bodybuilding Program
A structured bodybuilding program is important for several reasons.
First, it can help you achieve your specific goals more effectively. If you want to build muscle, lose weight, or improve your overall fitness, a structured program will help you make sure that you are doing the right exercises, with the right intensity, and at the right frequency.
Second, a structured program can help you avoid injury. When you are lifting weights, it is important to use proper form to prevent injuries. A structured program will teach you the correct form for each exercise, and it will also help you progress gradually so that you don't overwork your body.
Third, a structured program can help you stay motivated. When you have a plan to follow, it is easier to stay on track and not get discouraged. A structured program will also help you track your progress, which can be very motivating.
Finally, a structured program can help you save time. When you know what exercises you need to do and how many sets and reps you need to do, you can get in and out of the gym more quickly.
The Journey from Beginner to Pro: Bodybuilding Training Programs
Setting clear goals and objectives before starting a training program is crucial. There are different types of training programs available, such as split routines, full body workouts, and push-pull-legs routines. Nutrition and supplementation play a vital role in bodybuilding success. Tracking progress and making necessary adjustments to the training program is important. Staying motivated and consistent throughout the training journey is key.
The journey from beginner to pro bodybuilder is a long and challenging one, but it is also incredibly rewarding. Along the way, you will need to develop a strong foundation of strength and muscle mass, as well as a detailed understanding of bodybuilding training principles.
For beginners, it is important to start with a simple and effective training program that focuses on compound exercises. Compound exercises work multiple muscle groups at once, which is ideal for beginners who are still building their strength and muscle mass. Some examples of compound exercises include:
Squats
Deadlifts
Bench presses
Pull-ups
Barbell rows
As you progress, you can start to add more variety to your training program by including isolation exercises. Isolation exercises focus on a single muscle group, which can help you to target specific areas of your physique. Some examples of isolation exercises include:
Bicep curls
Tricep extensions
Lateral raises
Crunches
Leg extensions
No matter what level you are at, it is important to focus on progressive overload. Progressive overload means gradually increasing the amount of weight you lift or the number of reps you do over time. This is the key to stimulating muscle growth and making continuous progress.
Diverse Bodybuilding Training Programs and Their Unique Features
·        Full Body Hypertrophy: StrengthLog's Approach
StrengthLog's Full Body Hypertrophy program focuses on overall muscle growth by incorporating compound exercises and progressive overload. It is a versatile program suitable for beginners and advanced bodybuilders alike, allowing for individual exercise selection. Emphasis is placed on proper nutrition and recovery to maximize results. With an emphasis on training all major muscle groups, this program promotes muscle hypertrophy and can help individuals increase muscle mass. By following StrengthLog's Full Body Hypertrophy program, bodybuilders can achieve their desired physique.
·        The 3-Day Bodybuilding Split by StrengthLog
The 3-day bodybuilding split by StrengthLog focuses on working different muscle groups over three days a week, allowing for greater recovery time between sessions. This program is suitable for beginners or those with limited gym time. StrengthLog provides clear instructions on exercises, reps, and sets to maximize results. It can be customized to individual needs and goals. Consistency and proper form are key to success in any bodybuilding training program.
·        Exploring the 4-Day Bodybuilding Split
The 4-day bodybuilding split is a popular training program that focuses on targeting specific muscle groups each day. This allows for more targeted and intense workouts compared to full-body routines. The split can be customized based on individual fitness goals and needs. Recovery time is built into the routine to prevent injury and promote optimal muscle growth. Consistency and dedication are crucial for seeing progress with any bodybuilding training program.
·        Intensity Redefined: The 5-Day Workout Split
The 5-day workout split is a highly popular routine among bodybuilders due to its intense nature and diverse range of exercises. This program focuses on specific muscle groups each day, allowing for maximum muscle growth and strength development. It requires dedication and discipline to complete the intense workouts, but the ample recovery time between sessions ensures that muscles have enough time to rebuild and grow. Progress can be tracked over time, making it easy to monitor gains in strength and muscle size.
·        An Overview of the 6-Day Upper/Lower Workout Split
The 6-day upper/lower workout split is a challenging and effective training program designed to increase strength, muscle mass, and overall fitness levels. It involves alternating upper and lower body workouts for six days a week. The program includes compound exercises like squats, deadlifts, and bench presses to target major muscle groups. Additionally, isolation exercises are incorporated to focus on specific muscle groups. Rest and recovery are crucial in this program to prevent injury and allow muscles to repair and grow.
Tailoring Your Bodybuilding Training Program: What to Do Once Completed?
Once you have completed a bodybuilding training program, there are a few things you can do to tailor it to your individual needs.
Evaluate your progress. How have your strength, muscle mass, and body composition changed since you started the program? If you are not seeing the results you want, you may need to adjust the program.
Consider your goals. What are your long-term bodybuilding goals? If you want to compete in bodybuilding competitions, you will need to follow a different program than someone who just wants to get in shape.
Listen to your body. Are you feeling tired, sore, or burned out? If so, it may be time to take a break from the program or reduce the intensity.
Experiment with different exercises. There are many different exercises that can help you build muscle. Experiment with different exercises to find those that work best for you.
Get feedback from a personal trainer. A personal trainer can help you assess your progress, set realistic goals, and create a program that is tailored to your individual needs.
Is a Personal Trainer Necessary for Bodybuilding Success?
While not essential, a personal trainer can greatly enhance your bodybuilding journey. They can create a customized program based on your goals and fitness level, ensure correct form to prevent injuries, and maximize your results. If you're new or have specific goals, hiring a personal trainer is recommended.
The Science Behind Bodybuilding Programming
Understanding the science behind bodybuilding programming is essential for achieving optimal results. Muscle growth is the foundation of bodybuilding, and different types of training programs can be used to stimulate hypertrophy. Split routines, full-body workouts, and push-pull-legs are popular options. Determining the right frequency, intensity, and volume for your goals is crucial, as is incorporating progressive overload. Additionally, nutrition and recovery play vital roles in maximizing muscle gains. By applying these principles, you can create a well-rounded bodybuilding program for impressive physique transformation.
How to Choose Your Workout Split?
When it comes to choosing your workout split, there are a few factors you should consider. First and foremost, your fitness level is an important consideration. For beginners, a full-body workout split is often recommended as it allows for a balanced approach to training all major muscle groups. On the other hand, advanced lifters may benefit from a body part split, where different muscle groups are trained on separate days. Additionally, your goals and time availability should also influence your choice of workout split. Lastly, don't forget to incorporate rest days into your split to allow for adequate muscle recovery and growth.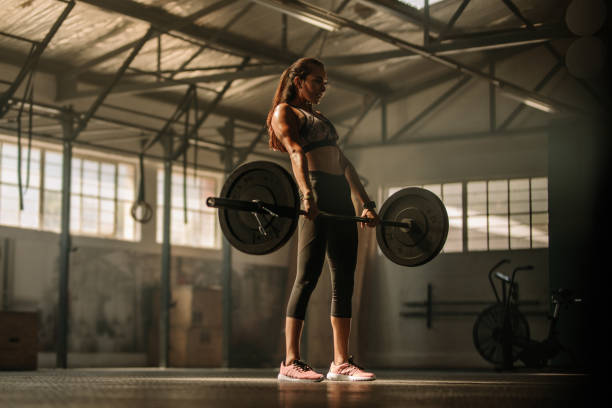 How does diet impact your bodybuilding training program?
Diet has a significant impact on your bodybuilding training program. The foods you eat provide the fuel and nutrients your body needs to recover from your workouts and build muscle. If you don't eat enough calories or protein, you won't be able to make progress in the gym.
Here are some of the ways diet can impact your bodybuilding training program:
Calories: Your calorie intake determines whether you're in a surplus, deficit, or maintenance. If you're trying to build muscle, you need to be in a calorie surplus. This means eating more calories than your body needs to maintain its weight. If you're trying to lose fat, you need to be in a calorie deficit. This means eating fewer calories than your body needs to maintain its weight.
Protein: Protein is essential for muscle growth. You need to eat enough protein every day to ensure that your body has the amino acids it needs to build new muscle tissue. The recommended daily intake of protein for bodybuilders is 1.2-1.7 grams per pound of body weight.
Carbohydrates: Carbohydrates provide your body with energy. They're especially important for high-intensity workouts. If you're not eating enough carbohydrates, you may find that your workouts are less intense and you're not able to recover as quickly.
Fats: Fats are essential for hormone production and other bodily functions. However, you don't need to eat a lot of fat to be healthy. A moderate intake of healthy fats is sufficient.
In addition to the macronutrients, your diet should also include a variety of micronutrients, such as vitamins, minerals, and antioxidants. These nutrients are essential for overall health and well-being.
If you're serious about bodybuilding, it's important to pay attention to your diet. By eating the right foods, you can maximize your results in the gym and reach your fitness goals.
Let's Sum Up
In conclusion, a structured bodybuilding program is crucial for achieving your fitness goals effectively. It provides a clear roadmap and ensures progressive overload to maximize muscle growth and strength gains. Following a well-developed program not only helps in building a solid foundation but also reduces the risk of injuries.
There are various types of bodybuilding training programs available, each with its unique features and benefits. From full-body hypertrophy to 6-day workout splits, you can choose a program that suits your preferences and goals.
Remember, diet plays a crucial role in bodybuilding. Proper nutrition, along with training, is essential for muscle growth and recovery. So, make sure to fuel your body with the right nutrients to optimize your results.
By incorporating strength training, choosing the right program, and focusing on nutrition, you can make the most of your bodybuilding training program and achieve the physique you desire.
You May Also Like