Are you looking for a workout that not only strengthens your core but also improves your flexibility and posture? Look no further than Pilates. It is a low-impact form of exercise that targets the muscles in your abdomen, back, and pelvis to help improve your overall fitness level.
In this blog post, we will take you through the basics of Pilates, its benefits, and how you can start incorporating it into your daily routine. We will also guide you through some beginner-friendly exercises that you can do at home without any equipment. Plus, we'll show you how to progress into more challenging moves as you become stronger.
So if you're ready to strengthen your core and improve your overall health, let's dive into the world of Pilates together!
Understanding Pilates and Its Benefits
Pilates is a low-impact, mind-body workout that focuses on core strength, flexibility, and posture. It was developed by Joseph Pilates in the early 1900s, and it has since become a popular form of exercise for people of all ages and fitness levels.
Pilates exercises are typically performed on a mat or reformer, a specialized piece of equipment. The exercises involve slow, controlled movements that are designed to strengthen the core muscles, improve flexibility, and promote good posture. Pilates also emphasizes proper breathing, which can help to reduce stress and improve circulation.
There are many benefits to doing Pilates, including:
Increased core strength: Pilates exercises target the deep core muscles, which are responsible for stabilizing the spine and pelvis. This can help to improve posture, reduce back pain, and prevent injuries.
Improved flexibility: Pilates exercises can help to improve range of motion in the spine, hips, shoulders, and other joints. This can make everyday activities easier and reduce the risk of injuries.
Better posture: Pilates exercises can help to improve posture by strengthening the core muscles and stretching the muscles in the back, neck, and shoulders. This can make you look and feel taller and more confident.
Reduced stress: Pilates is a great way to reduce stress and improve your overall mood. The slow, controlled movements and focus on breathing can help to calm the mind and body.
Increased energy levels: Pilates can help to increase energy levels by improving circulation and oxygen intake. This can make you feel more alert and awake throughout the day.
Improved sleep quality: Pilates can help to improve sleep quality by reducing stress and promoting relaxation.
Pilates is a safe and effective exercise for people of all ages and fitness levels. However, it is important to start slowly and gradually increase the intensity of your workouts as you get stronger. If you have any health concerns, be sure to talk to your doctor before starting Pilates.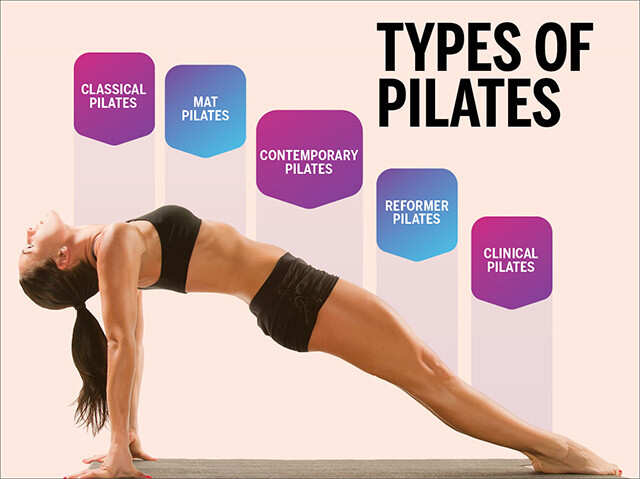 First Steps in Starting Pilates
To start your Pilates journey, you can begin with mat exercises that require no equipment. It's crucial to find a qualified Pilates instructor who can guide you through proper technique and modifications to ensure you get the most out of your workouts. Before starting any new exercise program, consulting with your healthcare provider is essential, especially if you have underlying health conditions.
Pilates can be done either at home or in a studio setting, depending on your preference and access. As a beginner, familiarizing yourself with the basic principles and fundamentals of Pilates will lay a solid foundation for your practice.
Getting the Right Equipment
When it comes to practicing Pilates, having the right equipment can make a significant difference in your experience and progress. While some Pilates exercises require specialized equipment like a reformer or Cadillac, beginners can start with just a yoga mat and a small Pilates prop such as a Pilates ring or resistance band.
As you advance and become more comfortable, you may consider investing in additional equipment to challenge yourself further. The proper equipment not only enhances your Pilates practice but also provides the necessary support and resistance for optimal results.
To determine which equipment is best suited for your needs, it's always a good idea to consult with a Pilates instructor or do some research on your own.
Preparing Your Mind and Body
Before beginning your Pilates session, take a moment to focus on your breath and set an intention to guide your practice. The mind-body connection is central to Pilates, so approaching each exercise with presence and mindfulness is crucial. It's also important to warm up your body by stretching or performing gentle movements to prepare for the more intense Pilates workout.
As you engage in the exercises, listen to your body and modify them as needed to avoid any strain or injury. Remember to stay hydrated and fuel your body with nutritious food to support your Pilates practice.
Basic Pilates Workout for Beginners You Can Do at Home
·        The Roll Down
Begin seated with legs extended in front and spine tall. Slowly roll down through the spine, articulating each vertebra. Engage your abs and maintain a straight line from head to tailbone. Inhale to prepare, exhale as you roll down, and inhale to return. Focus on precision and control. This exercise, popularized by Joseph Pilates in the early 20th century, strengthens your core and improves spinal mobility. It's a perfect exercise for beginners, providing a great workout in just 10 minutes. The Roll Down targets the abs, low back, and inner thighs while also engaging the triceps and improving posture. Incorporate it into your routine for a strong foundation.
·        Bird Dog
Begin in a tabletop position, with your wrists under your shoulders and your knees under your hips. Extend your right arm forward while simultaneously lifting your left leg straight back, maintaining stability throughout your torso. Activate your core as you exhale, bringing your elbow and knee towards each other and rounding your back. Inhale as you extend back to the starting position. Continue alternating sides for a full-body workout that targets your abs, low back, and glutes. The Bird Dog exercise, created by Joseph Pilates in the early 20th century, is a perfect exercise for beginners looking to strengthen their core and improve balance. It's a great way to engage your entire body in just a 10-minute routine. So grab a personal trainer or follow along with a pilates tutorial, and start incorporating Bird Dog reps into your workout!
·        Half Roll Back
Starting in a seated position with knees bent and feet flat on the floor, hip-width apart, this Pilates exercise focuses on core strength and stability. With hands placed behind the thighs to support the lower back, lengthen the spine and engage the abdominals. Exhale as you roll back halfway, maintaining a straight line from head to tailbone. The key is to control the movement and avoid rounding the shoulders or collapsing the chest. Inhale to return to the starting position, emphasizing stability and control. Keeping your gaze forward throughout the exercise, focus on engaging the abs and avoiding any strain in the low back. Performing this exercise regularly can help strengthen the core and improve posture.
·        Side Lying Series – Leg Lift
Begin by lying on your side, with your legs extended and stacked. Support your upper body with your bottom forearm. To perform the leg lift, lift your top leg while keeping both hips stacked and maintaining a straight line from head to toe. Lower your leg back down with control, avoiding any swinging or momentum. Throughout the movement, focus on engaging the outer thigh and glute muscles. Remember to repeat the exercise on the opposite side for balanced strength and stability. Incorporating the side lying series into your Pilates routine is a great way to target your inner thighs and strengthen your core.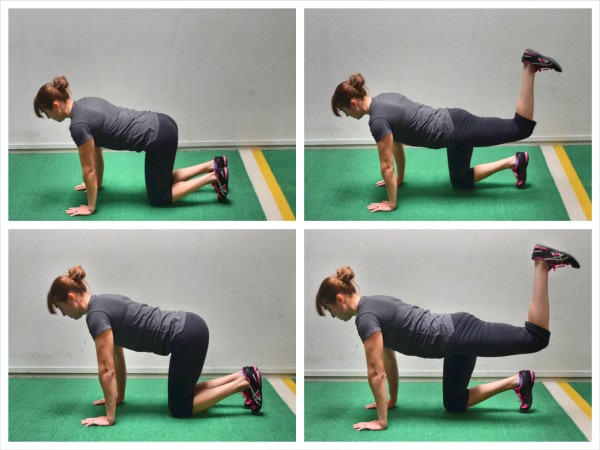 ·        Quadruped Series – Donkey Kick
The Quadruped Series, specifically the Donkey Kick exercise, is a fantastic way to strengthen your glutes and core. By performing variations of the donkey kick, you can target different fitness levels and customize the exercise to suit your needs. It's important to engage your core muscles while executing the donkey kick to ensure proper form and maximize the benefits. Not only does this exercise help improve posture and stability, but it also increases mobility and aids in preventing back pain. Incorporating the donkey kick into your routine is a great way to work on your abdominal strength and promote overall fitness.
Progressing in Your Pilates Journey
Here are some tips for progressing in your Pilates journey:
Set realistic goals. Don't try to do too much too soon, or you will likely get discouraged. Start with small goals, such as being able to do 10 repetitions of each exercise correctly. As you get stronger, you can gradually increase the number of repetitions and the difficulty of the exercises.
Be consistent. The key to seeing results from Pilates is to be consistent with your workouts. Aim to do Pilates at least 3 times per week.
Find a good instructor. A good instructor can help you to learn the proper form for the exercises and to modify them as needed for your individual fitness level.
Listen to your body. If you are feeling pain, stop the exercise and rest. Don't push yourself too hard, or you could injure yourself.
Be patient. It takes time to see results from Pilates. Don't get discouraged if you don't see changes immediately. Just keep working at it, and you will eventually reach your goals.
Here are some additional tips that may help you to progress in your Pilates journey:
Keep a journal of your workouts. This will help you to track your progress and to identify areas where you need to improve.
Set aside some time each day to practice Pilates exercises at home. This will help you to stay consistent with your workouts and to make the most of your time.
Find a Pilates buddy. Working out with a friend can help you to stay motivated and to push yourself harder.
Attend Pilates workshops and classes. This is a great way to learn new exercises and to get feedback from an instructor.
Be flexible with your workouts. If you can't make it to a class, don't sweat it. You can always do a Pilates workout at home or on your own.
Have fun! Pilates should be enjoyable. If you are not having fun, you are less likely to stick with it.
How Can You Stay Motivated?
Finding motivation in your pilates journey is key to staying consistent. Set realistic goals, track your progress, and reward yourself for reaching milestones. Consider finding a pilates instructor or workout buddy for accountability. Vary your routine to keep it interesting and focus on the positive changes in your body and mind.
What Results Can You Expect From Regular Pilates Workouts?
Regular pilates workouts offer numerous benefits. They help develop core strength, improve posture, and increase flexibility and mobility. Pilates also tones and sculpts the body, especially the abdominal muscles, while enhancing overall strength and stability. Additionally, it promotes improved body awareness and mind-body connection.
Let's Sum Up
In conclusion, Pilates offers a multitude of benefits, especially for beginners looking to strengthen their core. By incorporating Pilates exercises into your routine, you can improve your posture, increase flexibility, and enhance overall body strength. Starting with basic exercises like the Roll Down, Bird Dog, Half Roll Back, Side Lying Series – Leg Lift, and Quadruped Series – Donkey Kick, you can gradually progress to more challenging movements like the Spinal Extension Exercise and Forearm Plank.
It's important to stay motivated throughout your Pilates journey and set realistic goals for yourself. Remember, consistency is key. With regular Pilates workouts, you can expect improved muscle tone, increased stability, and better mind-body connection. So, grab your mat and get started on your Pilates journey today!
You May Also Like