Are you looking for a workout routine to build muscle and strength in your arms? Look no further than full arm workouts with dumbbells. Not only do they target multiple muscle groups, but they also improve grip strength.
In this blog, we will dive deep into the anatomy of arm muscles and the benefits of dumbbell arm workouts. \
Benefits of Full Arm Workout with Dumbbells  
#Builds Muscle and Strength
Regular arm workouts with dumbbells are an effective way to build muscle and strength in the arms, shoulders, and chest. Dumbbell workouts allow for a greater range of motion than traditional weight machines or barbells, leading to better muscle activation and growth. By engaging multiple muscle groups, dumbbell exercises can help improve overall balance and coordination.
#Improves Grip Strength
Incorporating dumbbell workouts into your fitness routine has the added advantage of improving grip strength. This is because dumbbells require more grip strength to hold than traditional weight machines or barbells. Improved grip strength can help with many daily activities such as opening jars, carrying grocery bags, and lifting heavy objects.
#Targets Multiple Muscle Groups
When it comes to arm workouts, targeting multiple muscle groups is essential for achieving an overall toned and sculpted appearance. Dumbbell exercises are a great way to accomplish this, as they engage not only the biceps and triceps but also the forearms and shoulders. By incorporating variations of dumbbell exercises into your workout routine, you can work on different areas of the arms for better results.
Anatomy of Arm Muscles
Understanding the anatomy of your arm muscles is essential for crafting a well-rounded workout routine. The biceps brachii, triceps brachii, and brachialis are the primary muscles responsible for arm movements.
The biceps brachii' flexing and forearm rotation are responsible muscles.
In contrast, the triceps brachii extends the elbow, and the brachialis helps in elbow flexion.
To target these specific areas effectively, exercises like bicep curls, tricep extensions, hammer curls, and close-grip push-ups should be incorporated into your routine.
Varying your workout routine helps ensure that all areas of your arm muscles are equally developed.
Necessary Equipment for Arm Workouts with Dumbbells
When it comes to arm workouts with dumbbells, having the right equipment is key to ensuring a safe and effective workout.
The necessary equipment includes dumbbells, a flat bench, a curl bar, resistance bands, and weight plates.
Choosing the appropriate weight for your strength level and exercises is crucial to prevent injury and maximize results.
A flat bench is essential for exercises like bench press and tricep extensions, while resistance bands can add variety and intensity to your workouts.
Incorporating different equipment variations can help keep your arm workouts challenging and effective.
Warm-up Exercises for Arm Workout with Dumbbells
Before jumping into your full arm workout with dumbbells, it's essential to warm up your muscles and prepare them for the intense exercise ahead. A proper warm-up routine can help reduce the risk of injury, improve flexibility, and enhance your overall performance.
Start with some simple stretching exercises that target your arms and shoulders. You can then move on to light cardio exercises like jumping jacks or jogging in place to get your blood flowing and increase your heart rate.
Afterward, incorporate isolation exercises like bicep curls and triceps extensions to work on specific muscle groups.
Finally, compound exercises like dumbbell bench press and overhead presses can also help build overall strength.
Remember to finish with cool-down stretches to avoid injury and improve flexibility.
Best Arm Exercises with Dumbbells
#Standing Alternating Dumbbell Curls
Standing alternating dumbbell curls are an efficient way to build bicep and forearm strength. By performing the exercise with one arm at a time, you can effectively isolate the muscle while also engaging the stabilizing muscles in your core and shoulders. This exercise is ideal for beginners, as it allows you to adjust the weight and focus on proper form before progressing to more challenging exercises.
To perform standing alternating dumbbell curls, start by selecting a light weight and holding one dumbbell in each hand.
Stand with your feet shoulder-width apart and your arms extended at your sides, palms facing forward.
Slowly lift one dumbbell towards your shoulder, keeping your elbow close to your body and focusing on contracting your bicep.
Lower the weight back down to the starting position and repeat on the other side.
Aim for 10-12 repetitions per arm per set.
Incorporate standing alternating dumbbell curls into a full arm workout routine to see maximum results.
#Overhead Triceps Extension
The Overhead Triceps Extension is a great exercise to strengthen and tone the triceps. This exercise requires holding a dumbbell behind your head and slowly lowering it towards your shoulders while keeping your elbows close to your ears. It can be performed seated or standing, depending on personal preference.
By incorporating the Overhead Triceps Extension into your arm workout routine, you can target the triceps' long head, which is often neglected in other tricep exercises. Remember to start with lighter weights and gradually increase the weight to avoid any potential injury.
With proper form and consistency, this exercise can help improve overall arm definition and appearance.
#Hammer Curls
When it comes to building strength in your biceps and forearms, hammer curls are one of the most effective exercises. Holding the dumbbells with a neutral grip targets the brachialis muscle, leading to increased size and definition. As you lift the weights towards your shoulders, keep your wrists straight and focus on squeezing your biceps at the top of each repetition.
Remember to start with lighter weights before progressing to heavier ones and avoid swinging or using momentum during the exercise to maximize its effectiveness. Incorporate hammer curls into your full arm workout routine for visible results.
#Lying Triceps Extension
The Lying Triceps Extension, also known as the Skull Crusher, is a highly effective exercise that can help you build impressive arm strength and size. This exercise targets the triceps muscles located at the back of your upper arms, which are responsible for extending your elbow joint.
By performing this exercise correctly and regularly, you can improve your overall arm definition and appearance. Keep in mind that it's important to use proper form and gradually increase the weight over time to prevent injury and achieve optimal results.
#Concentration Curls
Concentration curls are an excellent exercise for building bicep strength and muscle mass. This targeted exercise isolates the biceps, making it a highly effective addition to any arm workout routine.
By focusing on one arm at a time, you can ensure that each bicep is getting the attention it needs to grow stronger and more defined. The seated position also allows you to maintain proper form, reducing your risk of injury while performing this challenging exercise.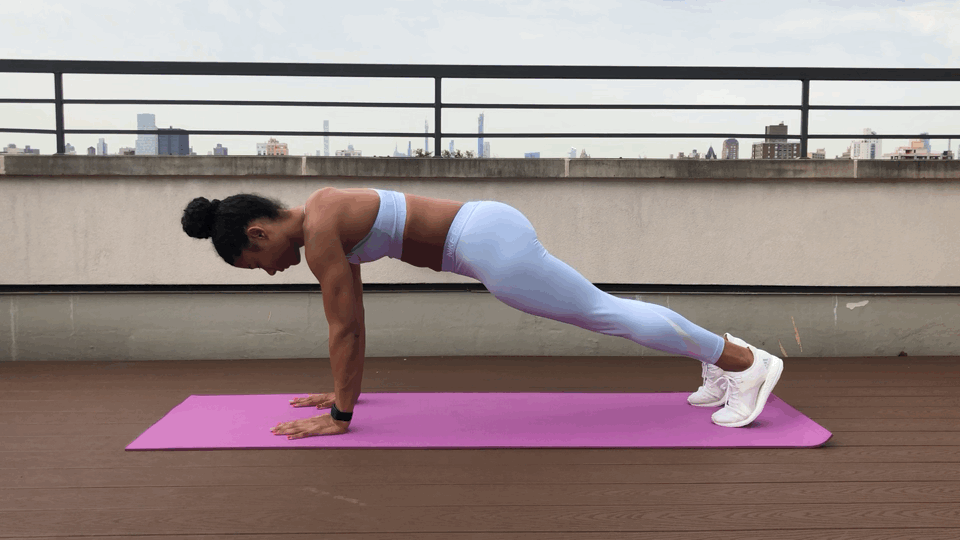 #Close Grip Push-Ups
Close grip push-ups are a challenging and effective exercise for building strength and muscle in the triceps, chest, and shoulders. This compound exercise engages multiple muscle groups at once, making it a great addition to any full arm dumbbell workout routine. By using a close grip, you can place more emphasis on the triceps muscles while also targeting the pectoral muscles and anterior deltoids.
To perform this exercise, start in a plank position with your hands shoulder-width apart and your elbows tucked in close to your sides.
Lower your body towards the floor while keeping your elbows tucked in, then push back up to the starting position.
As you become stronger, you can modify this exercise by adding weight or increasing the number of reps.
Incorporating close grip push-ups into your arm workout routine is an excellent way to challenge yourself and improve overall upper body strength.
Tips to Maximize Your Full Arm Workout with Dumbbells
Here are some tips to maximize your full arm workout with dumbbells:
Warm up: Before starting any workout, it's essential to warm up your body. Perform some light cardio for five to ten minutes to raise your heart rate and get your muscles ready for the workout.
Choose the right weight: Pick dumbbells that are appropriate for your fitness level and goals. If you're a beginner, start with lighter weights and gradually increase the weight as you get stronger.
Focus on form: It's crucial to use proper form to avoid injury and get the most out of your workout. Make sure you keep your elbows close to your body, engage your core, and use a controlled, smooth motion.
Mix up your exercises: There are several exercises you can do with dumbbells to target your arms. Make sure you mix up your routine and try different exercises to work all areas of your arms, including biceps, triceps, and shoulders.
Increase reps and sets: As you get stronger, increase the number of reps and sets you do for each exercise. This will help you build muscle and strength.
Rest and recover: Give your muscles time to recover between workouts. It's recommended to wait at least 48 hours before working the same muscle group again.
Stay consistent: Consistency is key when it comes to seeing results. Make sure you're sticking to a regular workout routine and challenging yourself with increasing weight or reps to see progress over time.
Let's Sum Up
Incorporating dumbbell arm workouts into your fitness routine can have numerous benefits, including building muscle and strength, improving grip strength, and targeting multiple muscle groups. Understanding the anatomy of arm muscles is important in determining which exercises to include in your workout. To get started, you'll need the necessary equipment and warm-up exercises before jumping into the best arm exercises with dumbbells. We've provided a full arm dumbbell workout routine for beginners and advanced lifters, along with tips to maximize your arm workout. Remember to use proper form, increase weight gradually, supplement your workout with cardiovascular exercise, and follow a balanced diet for optimum results.