Cable chest workouts are a great way to build strength, size, and definition in your chest muscles. A properly executed cable chest workout will target all major chest muscles, helping you to achieve a stronger and more toned upper body. This article will provide you with detailed information on the various types of cable chest exercises available, as well as tips for proper form and technique. Whether you're looking for an effective workout to tone up or bulk up, this article has all the necessary information you need to get the most out of your cable chest workout.
What is Cable Chest Workout?
Cable Chest Workout is a popular method of workout used to target the chest muscles. It involves using a cable machine to perform various exercises that specifically target the chest area and help build strength, size, and endurance. Cable-based workouts are particularly effective in helping individuals strengthen their upper body and core muscles, as they require more than just pushing weight with traditional free weights.
This type of workout uses cables or bands attached to a pulley system; this allows users to adjust resistance levels and angles as needed for different exercises. The great thing about this type of workout is that it can be used by anyone regardless of their fitness level or experience. It also requires minimal equipment, making it an ideal choice for people who don't have access to a full gym setup.
Cable chest workouts are a great way to improve your strength and endurance, as well as target specific muscles in the chest. Whether you are a beginner or an experienced gym-goer, these exercises can offer benefits for all levels.
Why You Need to Do Cable Chest Workout?
Cable chest exercises are an integral part of any bodybuilding program. They help to improve strength and muscle tone in the chest area, as well as strengthen the entire upper body. The cable chest workout is an effective way to target all areas of the chest muscles, from the upper and lower pectoral muscles to the triceps and shoulders.
When performing cable chest exercises, it's important to use proper form and technique in order to maximize results while avoiding injury. This type of exercise requires a greater range of motion than most traditional weightlifting moves, making it ideal for isolating individual muscles or strengthening larger muscle groups like those found in the chest. Additionally, cables provide increased resistance throughout each rep which can lead to improved muscle strength and endurance over time.
How Does Cable Chest Workout Work?
Using a cable setup allows you to use heavier weights than traditional free weights. The cables also provide more support and stability during movements such as flys, presses and pullovers. During these exercises, the resistance increases at the end of each rep, making it easier to engage those hard-to-reach muscle fibers. In addition to this increased resistance, incorporating cables will allow for greater range of motion by allowing you to move in multiple planes throughout each set.
Hnece, cable chest workout allows for a full range of motion. Unlike many other chest workouts which rely on gravity, cable exercises use both horizontal and vertical movements for maximum muscle tension. This ensures that all parts of the chest get worked out thoroughly and evenly as opposed to just certain areas. Additionally, because there is adjustable resistance available with cables, you can push yourself further than with free weights alone.
5 Best Cable Chest Workouts for Men
Before engaging in this form of exercise, it is important to understand the right technique for performing cable chest exercises. Incorrect technique can lead to injury, so take the time to learn about the steps before attempting any cable chest workout.
Begin by setting up the cables at shoulder height with elbows bent at a ninety-degree angle. Make sure you maintain good form as you pull inwards towards your body while squeezing your shoulder blades together tightly. For maximum contraction, inhale as you begin pulling and then exhale as you reach full extension or peak contraction point. You should feel tension in the center of your chest throughout this movement without sacrificing form or range of motion.
The most important step for proper execution of a cable chest workout is setting up the machine correctly. Adjust the height of both pulleys to be equal and level with your waist while standing straight up; they should be at or slightly above shoulder level when you are in a working position with elbows bent at 90 degrees.
#1 Cable Fly
The benefits of cable fly workouts include increased strength, improved muscle symmetry and coordination, greater range of motion in the joints, improved flexibility in the core muscles and torso area. Additionally, cable fly exercises are simple yet effective movements that target both the front pectoralis major muscle as well as all its associated stabilizing muscles around it.
How To Do?
Start by setting up the cables on a high pulley machine. Set each handle at shoulder height, but feel free to adjust slightly depending on your body type and comfort level.
Grab the handles with an underhand grip and stand in between them with your arms extended out in front of you.
Keep your elbows slightly bent as this will help you keep proper form throughout the exercise.
Inhale deeply before slowly pulling both handles inward until they meet in front of your chest while squeezing your pecs together tightly at the top of the motion.
Pro Tip
Maintain a mostly still torso and allow your chest to pull the weight forward rather than creating momentum. Keep your elbows slightly bent as you pull with controlled movements, focusing on engaging all the muscles in your upper body, including core muscles for stabilization. And vary your reps and sets each time you do cable flies so that your body doesn't become too used to one type of movement.
#2 Cable Bench Press
The Cable Bench Press is one of the most effective exercises for developing a strong and muscular chest. It can be used to target all the major muscles of the chest, including the pectoralis major and minor, deltoids, and triceps. This exercise can also be used to improve strength and stability in the shoulders and arms.
How To Do?
To perform a Cable Bench Press correctly, stand facing away from the cable machine with your feet hip-width apart.
Grip the cable handles firmly at shoulder width apart before slowly bringing them down toward your chest.
Make sure to keep your elbows tucked in close to your sides as you press up against resistance towards full extension above your head before slowly returning back to starting position.
Perform 3 sets of 8-12 repetitions for each set with 30 seconds rest between each set for maximum results.
Pro Tip
To ensure proper form when performing this exercise, it is important that you start by positioning yourself correctly at the fixture. Make sure your feet are firmly planted on the floor and your shoulder blades are pressed back against the bench. With a secure grip on both handles, inhale slowly before slowly extending your arms away from your body while keeping them parallel with each other in order to fully engage your muscles. As you exhale, bring both hands back together again until they meet in front of you.
#3 Cable Crossover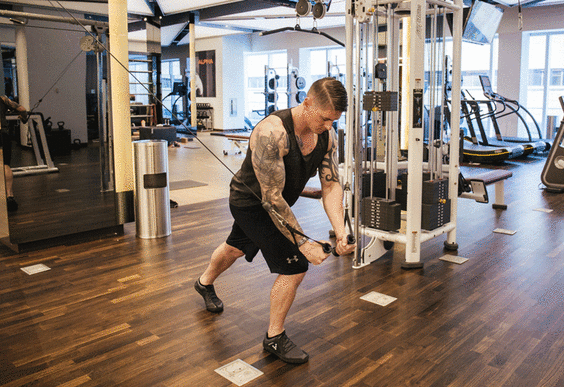 Doing cable crossover exercises is an effective way to work on your chest muscles. This workout can help increase strength, power, and endurance in your chest area. It is a versatile exercise that targets multiple areas of the pectoral muscles for a well-rounded workout.
The main benefits of doing a cable crossover workout are increased muscular definition and better posture. Cable crossovers target the inner and outer chest muscles as well as the shoulders, triceps, and biceps for a full body workout. Additionally, it also helps to improve overall stability and balance due to its ability to target muscle groups from different angles during each repetition.
How To Do?
Begin by standing between the two overhead pulleys with your feet hip-width apart, gripping each handle firmly in your hands.
With palms facing down, pull both handles towards each other until you feel tension in both arms.
Keeping your arms slightly bent at the elbows, slowly move them outwards into an outward arc until they meet again in front of your body.
Exhale as you bring them back together and focus on squeezing the shoulder blades together throughout this motion.
Pro Tip
Make sure to keep your back straight and chest up when doing these exercises to ensure that you use the right muscles to get the best results. Also, don't forget to do a light warmup first before beginning your routine; this is essential for any type of physical activity as it prepares your body and helps prevent injury.
Additionally, be sure to choose appropriate weight levels for each exercise so that you can really challenge yourself without injuring yourself or compromising proper form.
#4 Cable Incline Bench Press
The cable incline bench press is a great way to strengthen and tone your chest, shoulders, and triceps muscles. This exercise works by targeting the upper chest muscles in particular, providing an efficient workout for any fitness level. The incline angle of the bench also makes it easier to add resistance and push your body harder while still keeping good form.
When doing this exercise with cables you have more control over the pressure being placed on your muscles as well as the range of motion you can perform. This allows you to target different muscle groups with each set or rep depending on how much weight you use and what angle you are performing at. Additionally, cable machines provide constant pressure throughout the entire movement which helps maximize gains in strength and power.
How To Do?
First, adjust a cable machine to shoulder height or slightly higher. Sit on the bench with your feet flat on the floor and grip the handle attached to the pulley with both hands.
Then brace your core muscles and press against the handles while keeping your back straight.
As you extend your arms outwards, pause for a moment before bringing them back in towards your chest.
Repeat this motion for 8-12 repetitions per set for three sets in total.
Pro Tip
Make sure to adjust the seat angle on the bench to 45 degrees as this will allow for an optimal range of motion and increased muscle activation. Additionally, you should focus on controlling both the lowering and lifting phases of each rep; this will ensure that you develop uniform strength throughout your chest muscles.
# 5 Unilateral Cable Chest Press
The Unilateral Cable Chest Press is a great exercise to strengthen the chest muscles while simultaneously working the core and stabilizer muscles. This exercise helps to build strength and improve stability in the chest, shoulders, arms, and core. The single-arm press motion also helps to correct any imbalances between left and right arm strength by allowing you to work each side independently.
To perform this exercise, you will need an adjustable cable machine as well as a single handle attachment or a D-handle. First, stand facing away from the cable machine and hold the handle in one hand at shoulder height with your elbow bent at 90 degrees and your palm facing forward. Push forward until your arm is extended straight in front of you then slowly reverse back to the starting position. Make sure to keep your abs engaged throughout this entire movement for optimal results.
How To Do?
Begin by setting up a cable machine with a single handle attachment at shoulder height.
Grab the handle with one hand using an overhand grip and stand slightly away from the machine so that there is tension on the cable.
Keeping your core tight, extend your arm fully in front of your body then slowly return to start position without allowing the weight stack to touch down completely.
Aim for 8-12 repetitions on each side for three sets total to complete this unilateral cable chest press workout safely and effectively.
Pro Tip
Make sure you are performing this exercise with proper form. You should be holding the cable handle in both hands while standing perpendicular to the machine. Keep your arms slightly bent and bring them together in front of your chest before pushing outwards into a straight position until your arms are fully extended. Making sure that you're not locking out your elbows is essential for avoiding injury as well as getting optimal results from this exercise.
Answers You Want To Know
Why is cable chest work a great way to tone your muscles?
Cable chest exercises are a great way to tone your chest muscles and strengthen them in the same time.
Cable chest exercises allow you to work your chest muscles from multiple angles, which targets different muscle groups. In addition, cable machines provide adjustable resistance, so you can challenge yourself with heavier weights as you progress. Cable chest workouts also allow for more isolated movements, which can help target specific muscle groups in the chest area.
How many sets and reps should I do for the best results?
When it comes to exercises for the chest, the number of sets and repetitions will depend on your fitness level and goals.
For the beginner, aim to do 3-4 sets of 8-12 repetitions. As you become more fit, you may find that you can do fewer sets with heavier weights and increase the number of reps with lighter weights. This will help you to increase muscle size.
Should I use weight machines or resistance bands when doing a cable chest workout?
There is no set answer for this question as it depends on your goals and preferences. Some people find weight machines more stable and easy to control, while others prefer resistance bands because of the unstable surface. It is important to consider both options before making a decision.
Beginners may want to start with a weight machine, as it is more forgiving and easier to learn how to use. As you become more experienced and want a more challenging workout, you can then move on to using resistance bands. Both machines and bands offer different benefits that can make your workout more effective. Consider what works best for you and get started!
Is there any danger in doing too much cable chest work if I have shoulder injuries or arthritis?
There is some danger in doing too much cable chest work if you have shoulder injuries or arthritis.
Firstly, cable chest exercises should be done with proper form and with light weights to avoid injury. Start with a lower resistance band or cable machine weight to ensure that movements are performed correctly.
Secondly, it is important to warm up and cool down properly before and after each workout.
Lastly, listen to your body for signs of fatigue or strain, as pushing too hard can be damaging.
The cable chest workout is an effective way to build strength and muscle in the chest area. This exercise requires minimal equipment and can be done at home or in a gym. It is important to remember proper form when performing this exercise in order to minimize the risk of injury. Additionally, it is also important to add variety to your routine by incorporating other exercises that target the chest muscles. With consistent dedication and commitment, you will soon start seeing results from this workout. Always remember to stay hydrated and take breaks as needed to prevent injury.