Leg day is an essential part of any workout routine, yet it often gets overlooked. It's not just about building strong legs; leg day can also help to improve your overall fitness and health. But how often should you do leg day? The answer may vary depending on your fitness goals and training plan.
In this post, we will go over the basics of leg day, including its importance and the exercises that you should be doing. We will also cover the factors that you need to consider when determining the frequency of your leg day workouts, and how to prepare for and recover from them.
Read on to find out how to tailor your leg day routine to achieve your fitness goals.
What is Leg Day?
"Leg Day" refers to a workout session that focuses primarily on strengthening and toning the muscles of the legs, including the quadriceps, hamstrings, glutes, and calves.
It is a common term used in weightlifting and bodybuilding circles, where individuals typically follow a split training routine that divides the body into separate muscle groups to work on each day. This allows for more targeted training and recovery of specific muscle groups, leading to better overall strength and muscle development.
A typical Leg Day workout might include exercises such as squats, lunges, leg presses, deadlifts, calf raises, and leg extensions. These exercises can be performed using various equipment, such as barbells, dumbbells, resistance bands, and machines. The workout can be customized based on the individual's fitness level and goals.
How Often Should You Do Leg Day?
The frequency of leg day will depend on several factors, including your fitness level, goals, and recovery capacity.
In general, it is recommended to train your legs at least once per week, but you can increase the frequency to two or three times a week if you feel comfortable doing so. However, it's important to give your muscles enough time to recover between workouts, as overtraining can lead to injury and hinder progress.
If you are a beginner, starting with once a week and gradually increasing the frequency as you progress is a good approach. More advanced lifters can handle higher frequency and volume, but again, it's important to listen to your body and adjust accordingly.
Remember that leg day doesn't have to be limited to traditional weightlifting exercises like squats and lunges. Activities such as hiking, cycling, and running can also engage your leg muscles and provide additional benefits.
Best Exercises for Leg Day
When it comes to leg day, choosing the right exercises is essential for a successful workout.
#Squats
Incorporating squats into your leg day routine can provide a range of benefits beyond just targeting multiple muscle groups.
Proper form is essential to prevent injury and maximize gains from this compound exercise.
Front squats, goblet squats, and Bulgarian split squats are variations that can add variety and challenge to your routine.
Regularly incorporating squats into your workouts can improve overall strength, balance, mobility, and even help with everyday activities such as walking up stairs.
So, next time you plan your leg day workout, make sure you include this versatile exercise for a more comprehensive lower body workout.
#Deadlifts
Compound exercises are an excellent way to target multiple muscle groups, and deadlifts are no exception. This exercise effectively works the legs and back, making it a staple in many leg day routines.
Deadlifts can improve overall strength and power, as well as increase muscle mass.
With several variations available, including conventional, sumo, and trap bar deadlifts, this exercise can be adapted to suit different fitness levels and goals.
Proper form is essential when performing deadlifts to avoid injury. Remember to incorporate progressive overload and vary your sets and reps for optimal results.
#Lunges
Introducing lunges into your leg day routine can significantly improve lower body strength and muscle endurance. These compound exercises work multiple muscle groups, including the quadriceps, hamstrings, glutes, and calves, making them an efficient way to target the entire lower half of your body.
Whether you prefer forward lunges, reverse lunges or lateral lunges, adding different variations of this exercise to your leg day routine can help challenge your muscles and add variety to your workout.
Proper form and technique are essential for avoiding injury and maximizing results.
With consistent practice and gradual increase in resistance or reps, lunges can help you achieve a stronger and more defined lower body.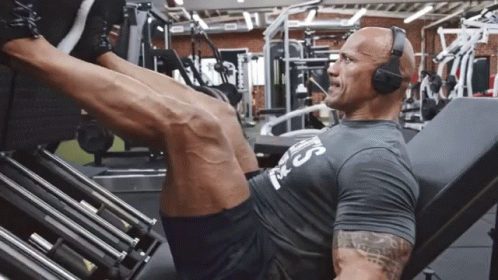 #Leg Press
The leg press is a popular exercise for targeting multiple muscle groups in your legs, including your quadriceps, hamstrings, and glutes. It's an excellent option if you're looking to add variety to your leg day routine, or if you're recovering from an injury that prevents you from performing other exercises like squats or lunges. One of the benefits of the leg press is that it allows you to lift a significant amount of weight safely, making it an effective way to build strength and power in your lower body. As with any exercise, proper form is essential when performing the leg press to avoid injury and maximize results.
#Calf Raises
If you're looking to add more size and definition to your calves, calf raises might be the perfect exercise for you. These simple yet effective exercises target the gastrocnemius and soleus muscles in your lower legs, which can help improve ankle stability and balance, as well as strengthen your lower legs for activities like running and jumping.
Whether you choose to perform seated, standing, or single-leg versions of the exercise, incorporating calf raises into your leg day routine can help develop more defined and stronger calves over time.
#Leg Curls
Leg curls are a must-add accessory exercise to your leg day routine. They target the hamstrings, which can often be neglected in other leg exercises. Leg curls can help with muscle balance and improve overall lower body strength.
Whether you use a machine or resistance bands, start with lighter weights and focus on proper form to avoid injury. Don't underestimate the importance of incorporating leg curls into your workout as they can significantly improve the definition and strength of your legs. Try seated, standing, or single-leg variations for optimal results.
#Hip Thrusts
Hip thrusts are a popular accessory exercise for leg day, and they can provide significant benefits to your lower body strength and power. By targeting the glute muscles, hip thrusts can help improve posture and increase hip mobility, which can prevent lower back pain.
In addition, hip thrusts can activate more muscle fibers in your legs than other traditional exercises like squats or lunges. This means that by adding hip thrusts to your leg day routine, you may see greater improvements in overall lower body strength and balance. Plus, as with any exercise, it's important to start with proper form and gradually increase the resistance over time for optimal results.
Recovery from Leg Day
Leg day can be intense and leave your muscles sore and fatigued for days afterward. Here are some tips to help with recovery:
Rest: Give your body time to recover by taking a day or two off from leg workouts. This allows your muscles to repair and grow.
Stretching: Stretching helps to increase blood flow to the muscles, which can reduce soreness and stiffness. Try stretching your legs after a workout or before bed.
Foam rolling: Using a foam roller on your legs can help to relieve tightness and soreness in your muscles. Roll the foam roller over your muscles, applying pressure where you feel tightness.
Hydration: Drinking enough water is essential for muscle recovery. Aim for at least 8-10 glasses of water per day to keep your muscles hydrated.
Nutrition: Eating a balanced diet that includes protein, carbohydrates, and healthy fats can help with muscle recovery. Protein is especially important for repairing and building muscle.
Sleep: Getting enough sleep is important for muscle recovery. Aim for at least 7-8 hours of sleep per night to give your muscles time to repair and grow.
Remember, recovery is just as important as the workout itself, so take care of your body and give it the rest and nutrients it needs to recover properly.
Finding the Right Frequency for Your Goals
When it comes to leg day, finding the right frequency is crucial for achieving optimal results. There are several factors to consider, including your current fitness level, recovery time, and training goals.
By determining these factors, you can create a leg day schedule that is tailored to your specific needs and will help you achieve your desired results. Varying the intensity and types of exercises during leg day is also important to prevent boredom and maximize results.
Remember to listen to your body and adjust the frequency as needed to prevent injury or burnout.
Let's Sum Up
In conclusion, Leg Day is an essential workout that should be included in your fitness routine. However, the frequency of Leg Day depends on several factors such as your fitness goals, age, and recovery time. It's essential to prepare for Leg Day with proper warm-up exercises and stretching. You can include various exercises such as squats, lunges, deadlifts, and leg press. Accessories like calf raises and leg curls can also help in building stronger legs. Recovery from Leg Day is just as important as the workout itself, so don't forget to cool down and consume the right post-workout nutrition.