Are you interested in getting stronger and improving your overall health? Strength training might be the perfect solution for you! Not only does it help to build muscle and improve physical performance, but it also has several mental health benefits.
In this blog, we will discuss the principles of strength training, essential equipment needed, and how to design a safe and effective program. We will also provide sample exercises for beginners such as squats, push-ups, lunges, and dumbbell rows.
Whether you're a complete beginner or a seasoned gym-goer looking to switch up your routine, this guide will help you get stronger safely and effectively.
Introduction to Strength Training
For those new to strength training, it can be overwhelming to figure out where to start. However, with a little knowledge and guidance, anyone can safely and effectively incorporate strength training into their fitness routine.
Starting with basic exercises like squats, lunges, and push-ups can help build a strong foundation and gradually increase the weight or resistance used in your workouts. It is important to allow for rest and recovery time between workouts to prevent injury and promote muscle growth.
By incorporating both strength training and cardiovascular exercise into your routine, you can reap the overall health and fitness benefits of a well-rounded workout program.
Benefits of Strength Training
Physical Benefits
Maintaining an active lifestyle is important for physical health, and strength training is an excellent way to achieve this.
Engaging in regular strength training can help increase muscle mass, improve overall body composition, and boost metabolism, leading to weight loss or management.
Additionally, strength training can help improve bone density by putting stress on bones and promoting bone growth, reducing the risk of osteoporosis.
Moreover, it helps improve posture by strengthening muscles that support the spine and reduces the risk of injury by strengthening joints and ligaments.
Finally, studies have also linked strength training with improved mental health, including reduced symptoms of anxiety and depression.
Mental Benefits
Strength training is not just beneficial for physical health; it also offers several mental benefits.
Incorporating strength training into your routine can boost your confidence and self-esteem, leading to an overall sense of well-being.
Research has shown that regular strength training can improve cognitive function, memory, and concentration, which are essential for maintaining a healthy mind.
It can also reduce stress levels and promote better sleep, which are crucial for managing mental health.
In summary, strength training is a powerful tool that can improve both your physical and mental health, making it an essential part of any fitness routine.
3 Principles of Strength Training
#1 Progressive Overload
Gradually increasing weight or resistance over time is a fundamental principle of effective strength training. This approach, known as progressive overload, challenges your muscles and promotes growth.
Starting with a comfortable weight that requires effort and gradually increasing it as you get stronger is essential to building strength safely and effectively.
It's important to progress at a pace that feels sustainable for you to avoid injury or burnout.
Incorporating progressive overload into your strength training routine can help you achieve your fitness goals and improve overall health, making it an essential part of any beginner's strength training program.
#2 Specificity
To effectively build strength, it's essential to understand the principle of specificity. This principle states that in order to see results, you must train the specific muscle groups you want to improve. For instance, if you're looking to strengthen your glutes, exercises such as squats and lunges can help target those muscles specifically.
It's also important to vary your exercises and gradually increase weight or resistance over time to continue challenging your muscles. By incorporating specificity into your strength training routine, you can achieve more significant and targeted results.
#3 Variation
Diversifying your workout routine is critical to achieving long-term progress and avoiding plateaus. Incorporating variations in exercises, reps, sets, and weight targets different muscle groups and can help prevent overuse injuries.
For instance, if you typically do bicep curls with dumbbells, you could switch to a variation like hammer curls or concentration curls to target the same muscles from a different angle.
Additionally, incorporating bodyweight exercises or resistance bands can add variety and challenge your muscles in new ways.
Essential Equipment for Strength Training
Strength training, also known as weight training or resistance training, involves the use of weights, resistance bands, or bodyweight exercises to build and maintain muscle mass, improve bone density, and increase overall strength and fitness. Here are some essential pieces of equipment for strength training:
Dumbbells: Dumbbells are versatile and can be used for a variety of exercises to target different muscle groups. They come in various weights and can be adjusted as your strength progresses.
Barbell: A barbell is a long metal bar with weights attached to either end. It is ideal for exercises such as squats, deadlifts, and bench press.
Weight plates: Weight plates are used to adjust the weight of a barbell or dumbbells. They come in different sizes and weight increments.
Resistance bands: Resistance bands are elastic bands that provide resistance when stretched. They are an inexpensive and portable way to add resistance to bodyweight exercises.
Kettlebell: A kettlebell is a cast-iron weight with a handle that can be used for a variety of exercises, including swings, squats, and Turkish get-ups.
Pull-up bar: A pull-up bar is a bar that is mounted to a wall or doorway. It is used for exercises such as pull-ups, chin-ups, and hanging leg raises.
Bench: A weight bench is used for exercises such as bench press, shoulder press, and dumbbell flyes. It provides a stable surface to lie on and can be adjusted for incline, decline, or flat positions.
Stability ball: A stability ball is a large inflatable ball that can be used for exercises such as planks, push-ups, and crunches. It challenges your balance and stability while working your core muscles.
Foam roller: A foam roller is a cylindrical foam tube that is used for self-massage and myofascial release. It helps to loosen up tight muscles and improve mobility.
Free Weights vs Machines
When it comes to strength training, the choice between free weights and machines is a common debate. Both types of equipment have their advantages and disadvantages, and the decision ultimately comes down to personal preference and goals.
Free weights, such as dumbbells and barbells, allow for a greater range of motion and engage stabilizer muscles for a more functional approach to strength training.
On the other hand, weight machines can provide more guidance and support during workouts, making them beneficial for beginners or those with injuries.
Ultimately, incorporating both free weights and machines into your strength training routine can offer a well-rounded approach to building strength.
How Often to Train Each Muscle Group?
The frequency with which you should train each muscle group depends on a variety of factors, including your training experience, goals, recovery ability, and the intensity and volume of your workouts. Here are some general guidelines:
Beginners: If you're new to weightlifting, you should aim to train each muscle group 2-3 times per week with a full-body workout or an upper/lower split.
Intermediate and advanced lifters: For those with more experience, a split routine is often employed to allow for greater volume and recovery time. A common split is training each muscle group once per week, although twice per week per muscle group can be beneficial for some.
Recovery: It's important to prioritize recovery, so it's essential to listen to your body and adjust your training frequency accordingly. Adequate rest and nutrition are crucial to muscle recovery and growth, so be sure to give yourself enough time between workouts for proper recovery.
Goal-specific training: If you have a specific goal in mind, such as building strength, hypertrophy, or endurance, the frequency with which you train each muscle group may vary. Consult with a qualified fitness professional or trainer to develop a program tailored to your goals.
Remember that training frequency is just one aspect of a comprehensive workout program. Other factors, such as exercise selection, intensity, volume, and rest periods, also play a critical role in achieving your fitness goals.
Sample Exercises for Beginners

Squats
Squats are one of the most effective exercises for building lower body strength and improving overall fitness. They work multiple muscle groups, including the glutes, hamstrings, and quads, making them a great addition to any strength training program.
Proper form is essential to avoid injury when performing squats. It is recommended to start with bodyweight squats and gradually add weight as your strength improves.
Goblet squats or front squats are variations that can help target different muscle groups and add variety to your workout routine.
Incorporating squats into your exercise regimen can also improve everyday movements like sitting down or standing up from a chair.
Push-ups
Introducing push-ups into your strength training routine can lead to significant improvements in upper body strength, particularly in the chest, shoulders, and triceps. It's also an exercise that can be done anywhere without any equipment.
Beginners can start with modified versions of push-ups, such as those on their knees or against a wall, before moving on to more challenging variations.
Maintaining proper form is crucial when performing push-ups, including keeping the body in a straight line and engaging the core muscles.
Gradually increasing the number of reps and sets over time will help to continually challenge your muscles and improve your overall fitness level.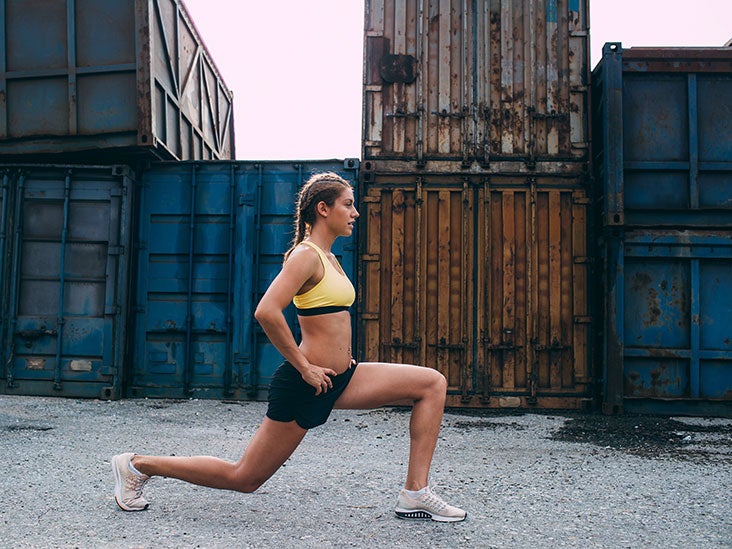 Lunges
Lunges are an effective way to target multiple muscle groups in the lower body, making them a popular exercise for those looking to build strength and tone their legs. However, improper form during lunges can lead to knee pain or other injuries.
To avoid these risks, it's important to start with basic lunges and focus on maintaining proper alignment throughout the movement.
Keeping your core engaged, shoulders back, and front knee over your ankle can help prevent injury and ensure that you're targeting the desired muscles.
By incorporating lunges into your workout routine, you can improve your balance, stability, and overall lower body strength while minimizing the risk of injury.
Dumbbell Rows
Dumbbell rows are an effective exercise for building upper body strength and improving posture.
By targeting the muscles of the back, shoulders, and arms, dumbbell rows can help alleviate pain caused by poor posture and promote overall spinal health.
It's important to maintain proper form during this exercise to avoid injury and maximize effectiveness.
By keeping your elbow close to your body while pulling the weight towards your ribcage, you can engage the target muscles more effectively.
As with any strength training exercise, gradually increasing weight and reps over time will lead to continued progress and improvement in muscle strength.
Let's Sum Up
Strength training is an essential component of overall health and fitness. It not only helps you build muscle, but it also improves your bone density, metabolism, and overall body composition. Incorporating strength training into your fitness routine can also have mental benefits like improved confidence and reduced stress levels. To ensure that you're getting the most out of your strength training program, remember to focus on progressive overload, specificity, and variation.
You May Also Like This: