As a bodybuilding enthusiast, you're likely familiar with the term "Women's figure", but what is it exactly? And how does it differ from the more general "Physique division"?
Since the early 1980s, women's bodybuilding has been growing in popularity. Women's bodybuilding competitions consist of three rounds: the judging round, the prejudging round, and the finals. In the judging round, each contestant is judged on her physical appearance. In the prejudging round, each contestant is judged on her muscularity, definition, and symmetry.
The finals are a combination of the two rounds. While the goal of bodybuilding is to develop muscle mass, women's bodybuilding also focuses on creating a lean and toned physique. Women compete in bikini, figure, and physique divisions which display different levels of muscularity. Some notable great female bodybuilders are; Lenda Murray, Iris Kyle, and Brigita Brezovac.
This blog breaks down the difference between Women's figure and Physique divisions, and explains why one might be better for your bodybuilding ambitions. Ultimately, you'll learn which category is right for you and why bodybuilding enthusiasts everywhere love Women's bodybuilding competition.
What is Women's Figure Category on Bodybuilding?
In bodybuilding, the women's figure category is a division in which athletes compete based on their muscle mass, definition, and symmetry.
The ideal figure competitor is one who has a low level of body fat, allowing for the visibility of muscle definition, and possesses a well-proportioned physique with an aesthetic flow and symmetry.
Muscularity is not as heavily judged in women's figure as it is in other categories such as women's physique and bikini. The focus is instead on the overall shape of the athlete's body.
Competitors in this category are required to perform two quarter turns during their routine so that the judges can get a full view of their physique from all angles.
The Women's Figure Category is widely considered to be the most aesthetically pleasing of all the bodybuilding divisions for women. If you are looking to create a symmetrical and feminine physique, then this is the division for you.
What is Women's Physique Category (WPC) on Bodybuilding?
The Women's Physique Category (WPC) is a division of competitive bodybuilding that is specifically for women. This category was created in order to provide a more athletic and aesthetic look for women, as opposed to the bulky muscles often seen in male bodybuilders.
In bodybuilding, the women's physique category is a new division that has grown in popularity in recent years. This division is for female athletes who want to display their muscular physiques on stage, but don't necessarily want to compete in the more muscular bodybuilding classes.
So what does it take to compete in women's physique? First and foremost, you need to have a well-balanced and aesthetic physique. This means that your muscles should be evenly developed and you should have good muscle definition. You should also be fairly lean, with minimal body fat.
Your posing routine is also important in this division. Unlike the other bodybuilding divisions, where you are judged solely on your physique, in women's physique you will be judged on your posing routine as well.
The WPC consists of two rounds: the symmetry round and the muscle rounds. In the symmetry round, competitors are judged on their overall proportions and symmetry. This includes things like balance, alignment, and how well-defined the muscles are. The muscle round is where competitors are judged on the size and definition of their muscles.
While there are many different ways to train for this category, most athletes focus on compound exercises that work multiple muscle groups at once. This helps to create a more balanced physique while also helping to avoid injuries.
The difference between Women's figure and Physique Divisions
The body of a woman is made up of six different divisions – bust, hip, waist, thigh, calf and arm. These divisions are based on a person's muscle mass and fat distribution. Muscle weighs more than fat so the bodies with more muscle tend to have smaller waists and hips while those with more bodyfat will have larger waists and hips. This difference in proportions can determine a person's category within a women's figure division or their physique division.
In the world of figure and physique competitions, there are slight differences between the women's figure and physique divisions. Here are the  key differences:
#1: Women's figure competitors are judged on their overall look, including their symmetry, proportions, and muscle definition. On the other hand, physique competitors are judged solely on their muscle definition and size. For example, a physique division 1 female with a muscle-to-fat ratio of 50:50 would be classified as a 'muscle woman,' while a physique division 6 female with a muscle-to-fat ratio of 80:20 would be classified as a 'fat woman.' The difference between women's figure and physique divisions is just one example of the many different categories that exist within the bodybuilding world.
#2: Women's figure competitors must wear a two-piece swimsuit during their prejudging rounds. Physique competitors, on the other hand, can wear either a two-piece or one-piece swimsuit.
#3: Women's figure competitions typically have more rounds than physique competitions. For example, a typical women's figure competition might have prejudging rounds followed by a evening gown round and then finals. A typical physique competition might only have prejudging rounds and finals.
#4: The figure division is for shorter women with a lighter weight. They must be under 5'7" and their weight cannot exceed 130lbs. Their stage presence is very important and they are required to show off their grace and femininity. There are seven mandatory poses that they must do during their routine. Symmetry is also essential in this division and judges will be looking for balance between the upper and lower body as well as the left and right side.
The physique division is for women who are taller with a bit more muscle mass. They must be over 5'2" but there is no maximum height limit. Their weight cannot exceed 140lbs.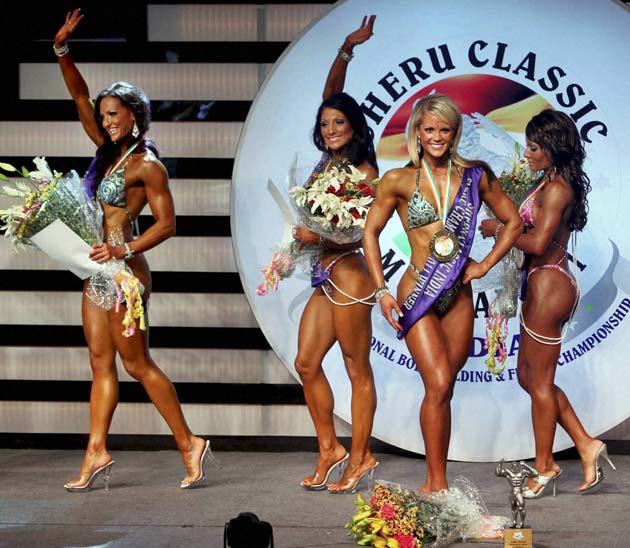 Women's Figure Category or Women's figure and Physique Divisions: Which is right for you?
When it comes to choosing a figure or physique division in a competition, it's important to do your research and ask around to see what would be the best fit for you. Here are a few factors to consider when making your decision:
Your body type: Each division has different requirements when it comes to height, weight, and proportions. Make sure you know the requirements of each division and which one you meet before making your decision. If you are relatively short and have a more compact frame, you may want to consider competing in the figure division. This division is typically for women who are under 5'6" tall. If you have a more athletic build with longer legs, the physique division may be a better fit for you. This division is typically for women who are 5'6" or taller.
Your goals: What are you hoping to achieve by competing? If you want to be as competitive as possible, you might want to choose a division that has fewer contestants. On the other hand, if you're just looking to have fun and don't mind how you place, any division will do.
Muscle Development: When choosing between figure or physique division, another thing to consider is your level of muscle development. Figure competitors typically have less muscle mass than physique competitors. If you have more muscle mass, you may want to consider competing in the physique division. Figure competitors must be able to maintain a lean and defined look while still having some muscularity. Physique competitors can have a little more muscle mass, but they should still have a well-balanced and symmetrical physique.
Women's figure is a category that bodybuilding competitions use to classify women into different body types. Women's physique is the category that bodybuilding competitions use to classify women based on their muscle mass and body composition. The main difference between the two categories is that Women's figure focuses on the overall shape and size of a woman's body, while Women's physique focuses on the muscle mass and definition of a woman's body. So, which category is right for you? It depends on your goals and body type. If you want to achieve a muscular
Answers You Want to Know
How do I achieve Women's Figure or Physique Division 1?
There is no one-size-fits-all answer to this question, as everyone's body shape and size are different. However, if you want to achieve Women's figure or Physique Division 1, you will need to work out regularly and eat healthy foods. This means that you should aim to eat mostly lean proteins, vegetables, and whole grains. Additionally, make sure to limit your amount of unhealthy fats and sugar.
Are there any other factors that contribute to a person achieving a particular physique division?
Factors that can contribute to our physique division include genetics, lifestyle, diet and exercise. Genetics play a big role in determining our physique division- meaning that some people are born with more muscular or less muscular builds. However, this is not the only factor that matters when it comes to achieving a figure we desire. Eating healthy and maintaining a balanced diet is essential for bodybuilding. You'll need to make sure that you're getting the right amount of protein, carbs, and fats if you want to build muscle and lose fat. Eating too much unhealthy food will stunt your growth and make it difficult to lose weight in the long run. In addition to eating right, make sure to include regular exercise in your routine- even if you're not lifting weights.
What exercises should I do to improve my Women's figure?
There are a variety of exercises that can be done to improve the figure of both Women's figure and Physique divisions. Some popular exercises for Women's figure include: crunches, situps, leg lifts, squats, side bends and windshield wipers. For Physique divisions, popular exercises include weightlifting (strength training), plyometrics (high-intensity jump training), calisthenics (bodyweight workouts) and aerial yoga. All exercises should be done with proper form and caution to avoid injury. Make sure to always consult a professional before starting any new exercise routine if you are not familiar with it.
You May Also Like