Many people would like to have an aesthetic body, but they don't know where to start. This blog is a guide that will show you how to get an aesthetic body naturally. This consists of teaching you the best aesthetic body training program that you can do at home. It will also give you tips on how to eat for aesthetic body and how to improve your appearance without spending a fortune. Finally, it will provide you with valuable resources so that you can continue learning and improving your appearance. So if you want to have an aesthetic body, read on.
What Is An Aesthetic Body?
An aesthetic body is one that is considered to be aesthetically pleasing and attractive. Achieving an aesthetic body requires dedication, discipline and consistency in order to reach the desired outcome. This type of physique usually involves having a balanced and proportionate muscular physique with good definition and symmetry. Having an aesthetically pleasing body is not necessarily about being the biggest or most muscular person in the gym; it's more about having an overall balance of size, shape, proportion and definition. Working out for this type of physique will typically involve a combination of strength training exercises such as squats, deadlifts and presses with plenty of rest days thrown in for recovery as well as cardio work such as running or biking to burn fat and promote muscle growth.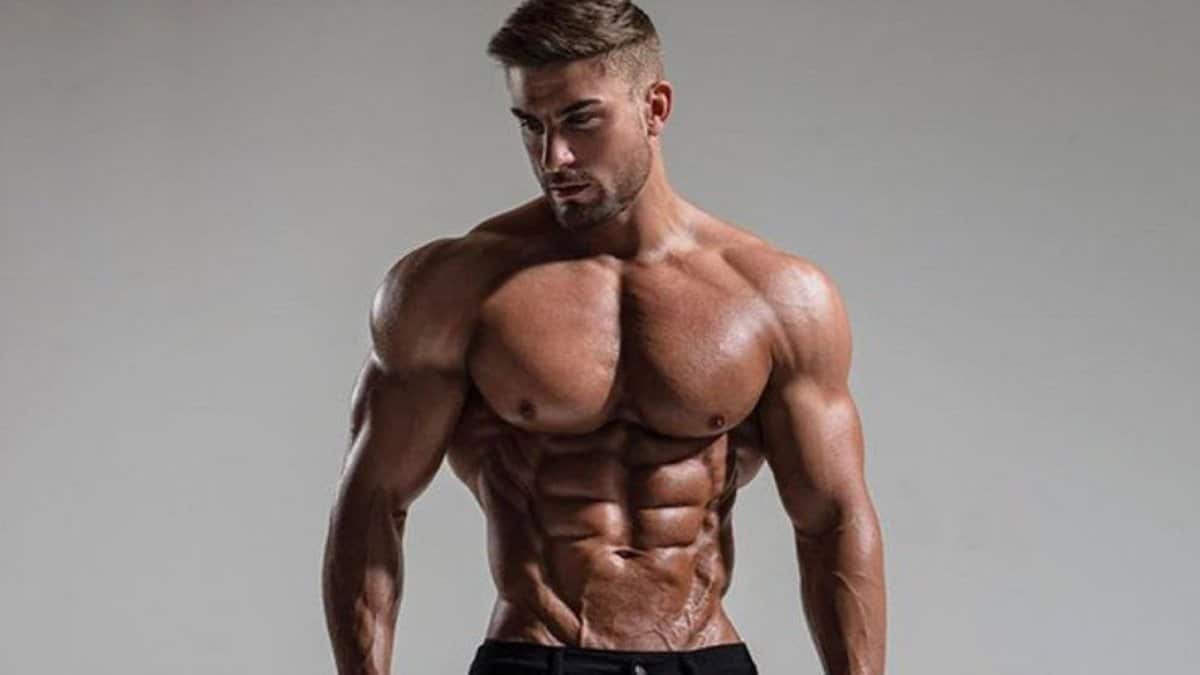 Is Aesthetic Body Only Relating To Men?
The concept of having an aesthetic body is often seen as a goal that is only pursued by men. Whether it's on social media, in the gym, or in advertisements, images of toned and muscular physiques are overwhelmingly represented by men. However, there have been changes in recent years. With more women engaging in weightlifting activities and taking pride in their sculpted bodies, it's time to ask: Is aesthetic body only relate to men? Aesthetic body is not just a term that only relates to men, as women have embraced their bodies and the concept of aesthetic body for decades. With the rising trend of physical health and fitness, this term has become increasingly popular in today's society. Women are no longer shying away from building an aesthetically pleasing physique and embracing their hard-earned results. The idea of aesthetic body goes beyond physical appearance for many women; it is about understanding and appreciating one's own strength and capability to sculpt their own body. For example, female athletes strive to develop optimized muscle structure that will enable them to perform better in the field or court. Many female gym enthusiasts also adopt a healthy lifestyle with proper nutrition and training plans in order to achieve optimal results for both aesthetics and performance.
How To Get An Aesthetic Body Naturally
There's no need to go to extremes to get an aesthetic body – you can achieve it naturally by following a holistic approach. There are many different types of training programs that can help you achieve your goals, so find the one that fits your needs and stick with it. Some of the most popular aesthetic body training methods include diet and fitness and weightlifting.
#Complete Effective Rep
Simply decreasing the weight and increasing the reps is an effective way to achieve an aesthetic body. When it comes to working out, many people focus on lifting heavy weights for fewer repetitions. While this strategy can help build strength, it does not lead to a chiseled physique or toned muscles. To create the definition and contours that define an aesthetic body, one must decrease the weight and increase the reps with each exercise. By performing multiple sets of higher-rep exercises with lighter weights, your muscles will become much more defined over time as they are forced to work hard in order to move the weight up and down multiple times per set.
# Unilateral Training: What Does It Mean?
One of the essential keys to sculpting your body into its maximum aesthetic shape is by training each muscle group evenly. Working all muscles equally helps to ensure that no muscle groups are over- or underdeveloped, and creates an overall balanced body shape. To ensure even development of all muscle groups, it is important to incorporate exercises that target each area into your routine.
# Focus On Conditioning
It's often said that the best way to improve your body composition and reach peak physical condition is through a combination of diet, exercise and lifestyle modification. However, incorporating regular conditioning into your routine can provide you with an additional way to build muscle, increase endurance and achieve a leaner look. Conditioning is typically considered any activity that involves short bursts of energy with rest intervals in between. Examples include HIIT (high intensity interval training) exercises such as sprints on the treadmill or running up stairs; Tabata-style interval workouts; plyometric jumps; circuit training; and even basketball drills which involve running from one end of the court to the other. All these activities work together to burn fat, increase strength and create an aesthetically pleasing physique by adding definition and shape to muscles. Large muscle groups can be rested for less than 50 seconds and smaller muscle groups for 30-40 seconds. Don't forget to include cardio in your workout. Aim for at least four 20- to 40-minute cardio sessions per week.
# Enhance Your V-Taper Cut
A V-taper cut is one of the most sought after body shapes amongst weight lifters and fitness enthusiasts. It's a combination of broad shoulders, a narrow waist, and toned abdominal muscles that blend into each other to create an overall aesthetically pleasing look. The good news is that it's possible for anyone to get that V-Taper look with some hard work and dedication in the gym. The key to achieving this shape lies in targeting certain muscle groups with specific exercises. For your shoulders, focus on overhead presses, lateral raises, and upright rows; for your lats do wide grip pull ups and bent over rows; for your abdominals do crunches, leg raises, planks and cable twists; lastly for your lower back do deadlifts and hyperextensions.
# Chisel 6 Pack
For any gym buff, a 6 pack is the ultimate goal when it comes to building an aesthetic physique. Not only does having 6 pack abs help build confidence and self-esteem, but it can also have profound benefits for your overall health. Having a strong core is essential for maintaining proper posture and stability while working out or performing everyday activities. In addition, having 6 pack abs will help improve your balance and coordination, allowing you to move with more precision and grace. Furthermore, having defined six packs gives you an edge in the gym as they are one of the most visible signs of fitness which can be admired by other gym goers.
# The Best Way To Eat
Having an aesthetic body is not just about going to the gym and doing weights. The meals you eat are just as important. Eating the right types of food will help you achieve your fitness goals, and make sure that your body looks toned and healthy. If you want to build a great looking body then you should focus on eating nutrient dense foods that are high in protein, low in fat, and high in fibre. These include lean meats such as chicken, turkey and fish; fresh fruits and vegetables; whole grains like oats; nuts; seeds; legumes; eggs; milk products such as Greek yoghurt or cottage cheese – all of which provide essential vitamins and minerals for muscle growth.
# Stay Active & Motivated
Staying motivated and active while building an aesthetically pleasing body is no easy feat. It requires dedication, hard work, and time. But the results are well worth the effort! There are several ways to stay motivated and make sure you stay on track with your goals.
First, create realistic goals that can be achieved in a reasonable amount of time. This will help keep you motivated as you progress towards them.
Additionally, set short-term goals that can be accomplished quickly – this will give you a sense of accomplishment and make it easier to stay focused on your longer-term objectives.
Finally, find activities or exercises that you enjoy doing – this will make it easier to stick with your routine instead of giving up when it gets tough.
With these tips in mind, anyone can build an aesthetic body they're proud of while staying motivated throughout the process!
# Find What Works For You
There is no one-size-fits-all approach when it comes to getting aesthetic body. That being said, there are a number of general tips that can help you on your way.
Firstly, it's important to understand that everyone has different needs and wants in this regard – what works for one person might not work for another.
Secondly, find the program that fits your lifestyle: whether you want an intensive workout routine or prefer a more relaxed approach with fewer exercises, find something that suits you well.
Thirdly, make sure to adhere to the program consistently; if you slack off here and there, progress will be slow or nonexistent altogether.
Fourthly – as clichéd as this sounds – see results.
Body modification takes time and efforts so don't expect overnight success.
The journey towards achieving your aesthetic body requires patience, consistency, hard work and dedication. Without these components in place, results will be difficult to achieve or may take longer than expected. Fitness experts recommend that individuals focus on proper nutrition that is tailored to meet their own needs as well as incorporate exercise into their routine in order to help them reach their goals more efficiently. Additionally establishing realistic short-term goals with long-term objectives can help keep you motivated throughout the process.
You May Also Like
Answers You Want To Know
How can aesthetic body help me achieve my fitness goals?
Aesthetic body is all about sculpting and shaping your body in a way that will give you a certain look. With aesthetic body training, you can improve your strength, endurance, flexibility, agility and balance. You'll also learn how to eat in a way that will give you better results when it comes to your physique. The program consists of three different levels of intensity so that you can customize it according to your current level of fitness and needs.
What are the benefits of being aesthetically pleasing?
Aesthetically pleasing bodies are in high demand, and this trend is only going to continue. People with aesthetically pleasing bodies are considered more confident and competent. Additionally, people with an aesthetic body often have higher job prospects as they're perceived as being better at personal interactions. Therefore, if you want to be in good shape and look great naked – start training your aesthetics today!
Can aesthetic body help me lose weight and tone my muscles?
Yes, aesthetic body can help you achieve your weight loss goals and tone your muscles. Aesthetic body through its various exercises and routines helps to target the fat cells and burn off the fat stored in these cells. This in turn causes the muscles to become toned and more defined as blood circulation increases.
Can aesthetic body help you achieve a more youthful appearance?
Yes, aesthetic body can help you achieve a more youthful appearance. It can help to reduce wrinkles and sagging skin, as well as give you a more toned and athletic physique. There are many components that go into an effective aesthetic body program, which takes time, effort, and patience to complete. However, many people find that following a combination of endurance training sessions, strength training sessions, yoga classes etc. works best for them.
What body fat is aesthetic?
There is no single right answer to this question as everyone's body fat percentage is different and depends on their physique and skin type. However, generally speaking, having healthy bodyfat is important for having an aesthetic physique. Specifically, bodyfat that is distributed evenly throughout your body is the healthiest option and gives you the best appearance.
Who has the best aesthetic physique?
For this we highly recommend you to check out the latest list of Top 10 Most Famous Aesthetic Bodybuilders of All Time.